(Last Updated On: December 21, 2017)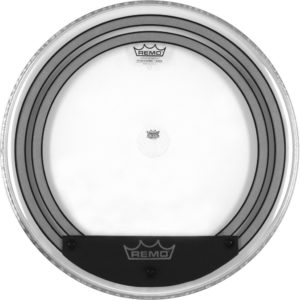 The bass drum is at the center of the drum kit as one of its three fundamental components along with the snare drum and hi-hat. You can get a huge array of different sounds from a bass drum, some prefer a punchy sound with a short sustain, others a full bodied thump.
You can deaden the kick drum for more of a muffled thud or leave it loose and open for that more vintage floppy kick sound. Having a good bass drum with a good head will change the way you drum. It'll be more responsive and easier to keep rhythm if it feels natural and effective to use.
The resonant head also matters tremendously by enabling more tuning options. A full bodied cannon like sound can be achieved, or it can be tuned to accentuate the punch of the kick. Resonant heads are essential for recording, too. It's easy to neglect your resonant bass drum head but you really notice the difference.

Top 5 Best Bass Drum Heads: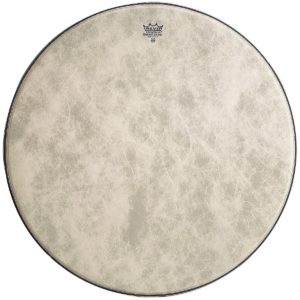 Remo's modern Fiberskyn range are based on the vintage calfskin heads made in the 70's. They look incredible, really suiting a natural, organic real wood-grain drum kit or a vintage style kit. The poly-spun ply is durable, warm and resonant.
It's a 10mil single ply head, so is has a medium durability for a bass drum head. It's designed for genres of music where durability isn't a particular issue though, particularly jazz and orchestral music. And it's still durable enough to endure a lot of playing and you don't expect it to break easily at all.
Tone
The tone is fat and warm, well suited to its vintage looks. There's a textural quality that brings out a full bodied, dark sound. Complex and natural, the resonance is suited to a more finely tuned kick drum, which you'd find in jazz.For genres like rock or heavy metal, the durability is lacking but some do still report that they love the single ply attack and dark edge that Fiberskyn produces.
The single ply ensures responsiveness at lower volumes also, meaning feathering techniques applied to the kick drum come out nicely, providing a great articulation for quiet, unplugged play. When used as batter heads on drums, Fiberskyn provide a lovely surface tone for brushes.
Aquarian have fewer ranges than Evans and Remo but are known for their super high-quality products that many change to and don't look back from. The Super Kick 2 is one of those heads, it has an ultra powerful low end that really turns your kick into a thudding cannon with heaps of projection.
Many don't turn back from this head and although it's priced slightly higher than Evans and Remo heads, the quality does shine through. It has two 7mil plies which are matched perfectly during manufacture. Those thicknesses are quite conventional for a kick head, providing solid low-end and heaps of durability.
The floating muffling ring works wonders for reducing unwanted resonance, meaning you can forget about carrying muffling material to your gig. Of course, for those wanting a truly dead, muffled sound, you can always add more, but overall, the floating muffler provides a great starting point and will satisfy most drummers out of the box.
Tone
The Super Kick 2's tone is refined and balanced. It has some resonance, allowing the sound of the drum to emanate, but is also focussed with the inclusion of the floating muffler ring. The bass pumps with this head if you tune it down, bringing forth a great thump that will pound on stage if you need it to.
Tuned up, it provides a lovely clicky, bassy punch that is great for rock and metal. The head is bouncy and responsive, there's little articulation compromised by the dual ply.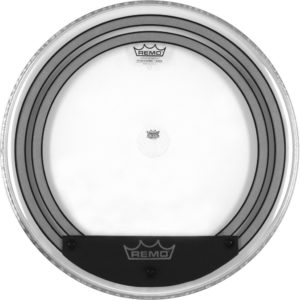 Remo Powersonic's are built with one thing in mind; power! They're massive sounding heads that are both durable and incredibly bassy with a mid-end attack to boot. Remo, the biggest head manufacturer, have been producing bass heads for many decades and their ranges are extensive.
The Powersonic definitely fits the bill for rock and metal drummers, being less suited to subtler styles. It has two damping rings and an ESDS, 'External Snap-on Dampening System,' AND comes with a Falam Slam kick patch. The durability levels really go through the roof and the dampening is comprehensive, meaning no extra or unwanted vibrations creep into your tone.
They're all eliminated and you're left with only the raw power and precision of this head. It has a conventional two-ply setup which provides durability and strength in build and tone.
Tone
Well, the Powersonic is powerful in tone first and foremost. It has focussed low end and a punchy mid-end, giving a 'snap' that drummers in rock and metal quest for. It isn't exactly complex, but simply thuddy and precise, turning your kick drum into that bass cannon to get your performance rocking.
Perfect for recording, the dampening systems stack up to give you a dead, easily recorded sound that is perfect for professional and budget studios alike.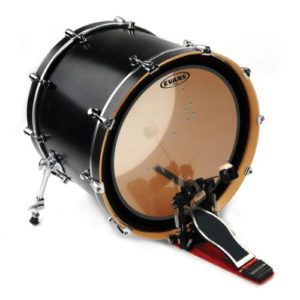 Moving onto to Evans' main bass drum head offering, the EMAD2. We get a well known, renowned head for a cheaper price than many others. It has a slightly different ply setup, with an outer 6.5mil and inner 10mil. This gives it a good blend of attack and low end and of course, plenty of durability.
Marketed as a true workhorse, the Evans EMAD2 lives up to its purpose – it provides low-end thump that is clear of unwanted resonance. EMAD actually stands for 'Externally Mounted Adjustable Damping', and these heads come with two damping rings by default. You can select a heavily muffled, focussed low-end sound, or a more mid-range, natural and warm sound.
Tone
Evans have created a bass head that will survive the test of time for sure. The EMAD is inexpensive and the quality is of course up to scratch with Remo and Aquarian. It provides a real bassy thump that has ample low end for modern styles. When tuned up, you can achieve a satisfying 'click' for metal and double bass pedal work.
The foam inserts are more flexibly used than with some kick drum heads, too, giving you great control over muffling out-of-the-box. Some people do go further though and add a pillow to the bass drum. Muffle rings only get you so far, with all the heads listed.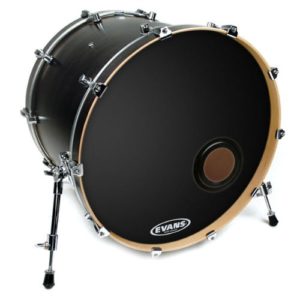 The Evans REMAD is a resonant head for the front of the bass drum. Resonant heads provide, well, resonance! And that means that they help control the pitch, attack and sustain of the bass drum as a whole. Resonant heads also help increase the volume of the kick drum.
They're usually pretty simple – one ply, usually 7.5mil to 10mil. They don't tend to break, especially when they're ported. A port enhances the attack of the drum whilst providing an access port for microphones. Evans' REMAD has a 4" port with a plastic sleeve to prevent it from being damaged. It's very handy to have a pre-cut port as they're fairly tricky to do yourself and require a hole cutting tool.
The REMAD has the same damping as the EMAD. When combined, you get a truly focused bass drum sound that is perfect in live and studio settings.
How to Find the Best Bass Drum Heads
Bass drum heads come in many shapes and sizes and there are lots of models available from the main manufacturers: Remo, Evans, and Aquarian. The three market leaders have been producing heads for many years now and their manufacturing techniques have refined massively. Most are two-ply skins, often with built-in internal damping. Some are single ply.
Single Ply
These bring out the resonance of the drum itself, giving the drum a more natural, full-bodied sound. They're less popular for bass drums as they're not as durable as a two-ply head. Still, if the ply is thick, then single ply heads still have good durability and are a more popular choice for jazz, funk, R'n'B or hip-hop drummers.
Two-ply
These bring out more low end, providing a suitable thumping tone for many genres. Less resonance comes through, so the sound is more flat, controlled and dead, rather than ringy. They're more durable and are best suited to harder hitters. There are fewer subtleties but the overall tone is strong and defined.
Internal Damping Systems
We're all used to having to stick a pillow in the bass drum but these days, heads often come with damping rings that can be placed on the batter head. These foam discs sometimes come in a couple of different sizes, like in Evans' EMAD range. Sometimes they're built into the head itself. They improve low-end focus and mean there's no need to take your pillow to your gig!
Conclusion: What Are the Best Bass Drum Heads?
Bass drum heads have been refined over and over and today, we're left with some very tight competition. As always, the main competitors pitch each other's technology against each other and the result is some very closely matched kick drum heads.
The Fiberskyn head in this lineup is the exception. It's unique and not quite as versatile than the other heads, but still really adds something special to the right setup. It's definitely worth a go if you're a jazz drummer, for example. The other heads are all two-ply and have many similarities, including built-in dampening systems.
Remo's dampening system is comprehensive, making the Powersonic a top choice for heavy hitters in contemporary genres. The Aquarian Super Kick packs a real punch and though it comes at Aquarian's slightly higher price, its quality shines through in its wonderfully balanced thud which has plenty of low-end and mid-range to focus it.
Evans' EMAD series won't disappoint either, they're hard wearing, easy to tune and packed full of bass power. The dampening system is flexible and the price is below the average.
None of these heads will disappoint, though, and often it just depends on your brand allegiance as a drummer. No doubt you'll end up trying them all at some point anyway!