(Last Updated On: December 21, 2017)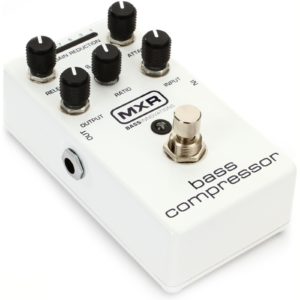 Is there such a thing as "the best bass compressor pedal"?
Both "no" and "yes" answers are right in this case.
No, it does not exist because two factors are almost unpredictable in terms of the "best" sound: the bass compression quality you need to be satisfied and the reaction of your guitar amplifier cabinet to a compressed signal.
Yes, it does exist because a good bass compressor can be a game changer for a weak bass guitar or a beat-up speaker in terms of getting smooth, even flat tones, balanced sound and boosted volume.
Without further ado, let us get straight to the best bass pedals available on the market at the moment.
Top 4 Best Bass Compressor Pedals: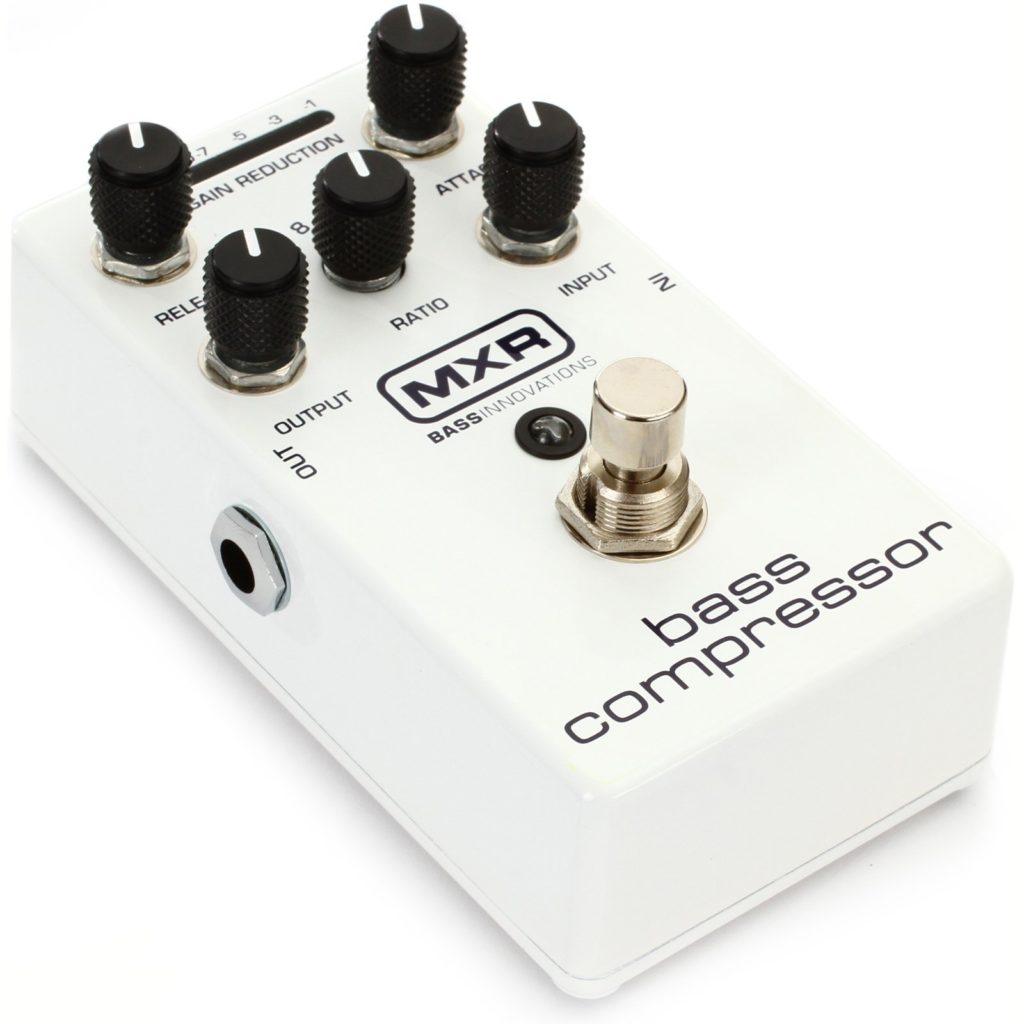 One of the best bass compressors on the market. If you are looking for a simple, easily adjustable device with good functionality and great sound from a reliable manufacturer you hardly find something better than the M87 compressor pedal.
For many years EBS Multi Comp (see below) had almost no competitors but this advanced compressor became a game changer.
What is the difference? You have more controls, modern LED scale for those who do not believe their ears. 🙂
You get functionality which is usually available only with much more expensive compressor pedals. Input/output controls give your full control over compression while nice easy-to-read LED indicator helps to understand the level of compression applied.
The very thorough manual will help you adjust the right settings in just 10-15 minutes. It might be especially useful for beginners.
The sound is absolutely great for different styles. M87 can both fatten and limit your tone depending on a particular situation and your desire.
MXR has a very solid reputation in the world of bass professionals, and their M87 bass compressor is just one more evidence of their reliability.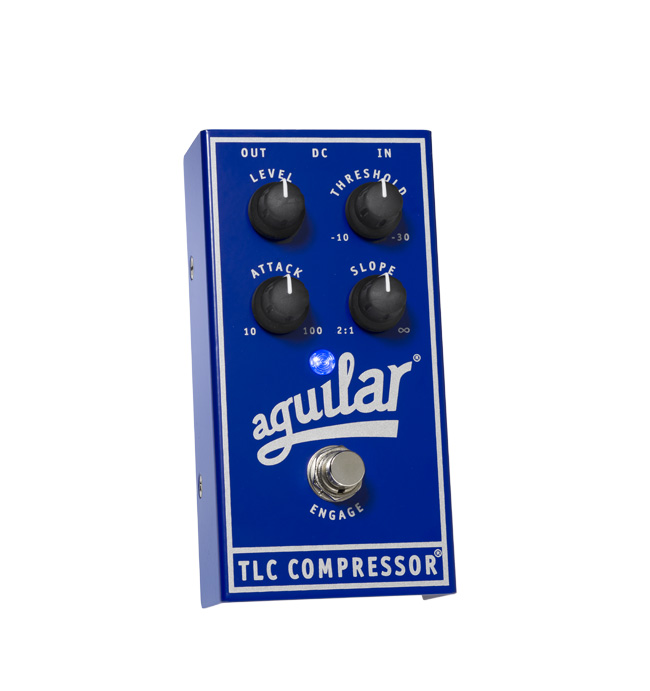 This very nice-sounding pedal is a strong and interesting competitor of M87 reviewed above. Many bass involved professionals recommend TLS as a perfect alternative if you are not fully satisfied by MXR's device.
This bass compressor provides you with the ability to individually set each of the settings needed for perfect punchy bass. It makes your bass sound consistent and flexible at the same time, smoothes it out and can even compensate some negative sound effects of an old cabinet.
Please note that it supposed to be subtle and if you want a compressor pedal which can make your sound more colorful you probably need something else.
This bass compressor pedal is the most expensive one from all reviewed in this article. However, in my opinion, its price is pretty fair. You can easily adjust this device even you are a bass newbie and do not fully understand the meaning of the words "release" and "attack".

This model is a famous and respectful one. This thing is made for the real experts of bass compression who want to feel all nuances and know what they want to get from a compressor.
You have a minimal number of controls, and all of them are needed for some important settings.
It stresses attack very well, makes the bass more dried and sound more colorful.
Two separate bands of compression make this device unique: the signal is compressed separately for low & high frequencies. This interesting feature can be useful, for example, for heavy metal compositions which need to catch all the peaks.
However, the main feature of this compressor pedal is its ability to produce a crystal clear and transparent sound which does not feel compressed from any point of view.
The tone is amazing and becomes focused and direct if you set everything right.
This bass compressor is not noisy at all which, unfortunately, is not a rare thing for cheaper models of compressor pedals.
This device is a perfect investment of money, especially recommended for professional players who understands well what is good and what is bad regarding bass.
However, even if you are just getting to first base in terms of bass guitar playing you still may want to buy this top-notch equipment for better bass sounding.

Wow.. how many controls…and even a bulb.
This compressor pedal is a VERY sophisticated device. You should be extremely careful when doing adjustments because sound becomes pinched and muffled so easily.
A bulb adds some color, but it is almost imperceptible.
And it is perfectly quiet. You have no ambient noise at all. I think there is some noise cancellation inside.
This compressor can easily pump up a sound, make it wide and more volumetric.
This bass compressor pedal is very good, but it has some drawbacks.
First of all, this device is huge for the majority of people.
Secondly, it is so sensitive to any adjustments that it may be annoying for people who do not like to fiddle with settings.
However, Markbass Compressore is a top-notch bass compressor pedal and I can highly recommend it to people who love deep and rich bass.
Other Good Bass Compressor Pedals
I reviewed above all the best bass compressor pedals available on the market at the moment. However, there are still some interesting alternatives you can try on your own. I just list them below and give a short description to each one:
Carl Martin Classic Opto Compressor Pedal is a very good device for the money. It has a low level of noise, many different settings and the right way of working with sound.
Demeter Compulator was competing with EBS Multi Comp for some time. It has similar settings, less colorful tone and is more accurate in terms of peaks. I have tried it several times, and the overall impression was positive.
Diamond BCP-1 has just three controls, but the sound quality is amazing. This compressor pedal has its own color and it makes the bass juicier but not muddy. It works gently with peaks and produces almost no noise. It is quite delicate, and if I have some time, I will make a full review for this perfect bass compressor pedal.
They say 3Leaf PWNZOR is similar to Diamond BSP1; some people also praise FEA Labs. However, I have never tried them and can say nothing about their pros and cons.
Do You Need a Bass Compressor Pedal?
Everybody asks this question from time to time.
Compression haters say that all bass compression pedals are made just to compensate weaknesses of bad players, old bass guitars or outdated audio equipment.
They say really strong bassist does not need any bass compressors which may just "destroy" the right tone. They call compressed sound "dull," "dimed," and even "flat."
Is there a grain of sense in their words? For people who think so, I strongly recommend reading an interesting article which completely covers this topic: "Is using a bass compressor cheating?".
My article is not about pros and cons of bass compression, although, this topic is quite important and I will try to highlight just main points:
First of all, even the bass compressor in the world cannot get amazing sounds from a bad bass guitar. Bass compressor pedal just cuts dynamic peaks, emphasizes attack.
Loud sounds become quieter and quiet sounds – louder. Eventually, a compressor makes the bass more consistent; low-end frequencies do not disappear during a strong attack.
Yes, good compressor pedals are very sensitive to sound quality. They absorb and increase all ambient noise.
However, all strong bass players use compression for better consistency of volume as I said above. Why?
Because you supposed to have perfect pitch and incredibly sensitive fingers to play each and every note with the same volume. You still can try but a good compressor helps you get the same result without extra effort you may need for something else.
Moreover, some tones can not be gotten without a good compressor even from the best bass guitar in the world.
Also, when you play guitar quieter notes should not fade too quickly, and that is when some soft compression may be irreplaceable and help to keep those notes from rapid decaying.
Thus, if there is still some doubt you need to go to your local music store and just try one of the devices mentioned above. Only you can decide whether you need any compressor or not, and only you can choose the best compressor pedal for yourself.