(Last Updated On: December 21, 2017)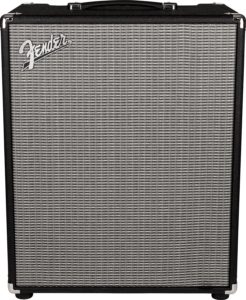 So, what is the best bass combo amp under $500?
Picking an amp shouldn't be too hard…but it so often is significantly more difficult than it should be simply because of the sheer amount of choices available.
There are bass amps in all price brackets, but for most working people starting in the under $500 category will suit the working musician extremely well. Even under these constraints, there are probably thousands of amplifiers available to the working bassist.

Top 14 Best Bass Combo Amps Under $500:
Best Amps $0-100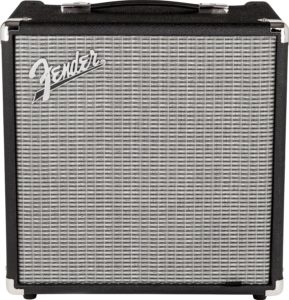 This is one of the smaller offerings in the lauded Rumble series. Small, as mentioned previously, is not always a bad thing. The tones on this thing are really something special at this price.
The major downfall of this particular amplifier is the size. 25 watts is superbly limiting when it comes to gigging. With 25 watts, you will probably struggle to crank out enough volume on a more intense jazz session where there are no cranked guitars.
That aside, the amp has a headphone jack, a jack for playing mp3s and a solid construction inside a highly portable body. If you are looking for a small amp to add to a collection for a very low price without sacrificing too much on sound, this might be one to consider.
Pros
Sound is quite good
Portable
Well constructed
Value is considerable
Cons
Way too small for most gigs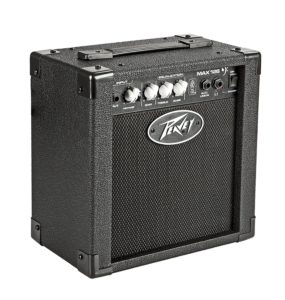 Somehow, Peavey has managed to pack some serious low bass into this very small package. If you are looking for a very small amp with a very large bass response range at a very good price, this amp may be the point for you to stop reading this article and bust out your wallet.
The Peavey Max 126 series of amplifiers is a decent budget series that does one thing really well: pack serious bass response in relatively small packages. Usually, it is the larger amps that have the very low-end bass rumble. That is not the case here. The Max series does not miss a beat in this budget range and can easily best any of the other amps on the list given here.
The amp, otherwise, has very basic features and does come from Peavey featuring that reliable Peavey construction and reliability.
Much like the Fender Rumble, I think the best reason to purchase this is as a secondary amp. But, that is not to say that it would not make a great first amp or budget amp for any aspiring bassist.
Pros
Bass response
Good price
Portable
Well constructed
Cons
Might be too quiet for your gig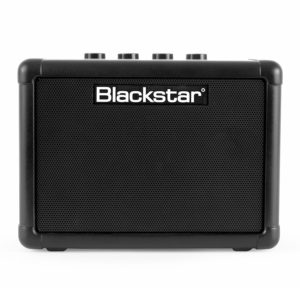 This amp is the smallest in this range and comes with a very unique feature – the amp is battery powered. Now, by having this differentiating feature, the amp becomes a highly specific tool.
In my opinion, only two people should buy this amp. If you live in an apartment where something very small is the maximum you can utilize to the full potential you should look at this amp. On the other hand, an experienced touring musician may find great value in this amplifier on the road because it is battery powered.
The sound and power of this amp are a true achievement while maintaining the battery-powered form-factor. Many users claim that this amp is a best-in-class battery powered amplifier. Not only that, but they claim that this is a best in range amplifier regardless of the power source.
The fact of the matter is this, in this price range you are looking at amps built for practicing and not performance. If you understand that, you can make your money go quite far.
Pros
Battery powered
Quite portable
Small
Decent sound
Cons
$100-200
As we move up the price range approaching our $500 cap, we will notice that one fundamental change happens: the amps get bigger. Now, this is not always a huge benefit if we are looking for a practice amplifier or an amp for very small, intimate gigs that is easy to transport like the Fender Rumble.
What you will find in this particular range are solid combo amplifiers that add a little more weight in favor of, generally, more power.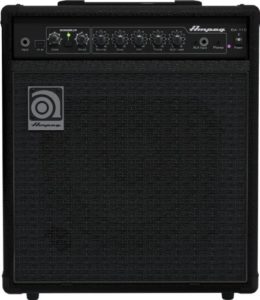 Ampeg, while it may be a lesser known amplifier company to some, is not a company that you should overlook. This particular amplifier is a healthy 40 watt model with a house built 10″ speaker. Additionally, the slight angle to the design offers what Ampeg claims is "60 degree 'sound reinforcement'". Whether or not this means anything at a practical level is up to you.
If you are looking for a consistent, decent performer in a portable package that has enough power for a small church-sized gig, this is a good amp to consider. What you will not get is incredible low end or any real versatility (you should not consider this amp for your pianos or keyboards).
The amp brings a bunch of nice features such as a 1/8″ headphone jack and good adjustment options, but other than that it is effectively a bass amplifier and that is all. If you are looking for an amp to set you apart from the crowd, this is not it.
Pros
Good sound output
Passable features
Good size, decent portability
Cons
Woofer will bottom out at any decent volume level
Ampeg's angle design is more gimmick than anything else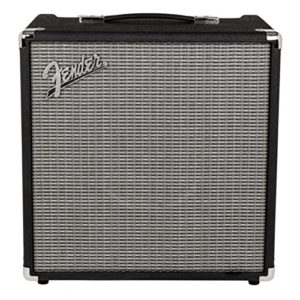 Bring most of the excellent features of the Rumble series, the Rumble 40 watt model is a great option. Although, it does essentially max out this budget range. But, for the price, you really could not do any better.
The Rumble 40 features a 1×10″ speaker set up along with headphone and XLR out (these features are standard on all Rumble amps). The Rumble 40 features respectable sound output for its size and comes in at a very comfortable-to-carry 18 pounds.
If you have $200 and want an amp that is both lightweight and will be quite at home in a medium-sized room behind a fully electric band with decent low end, this may be the amp for you.
Pros
Weight
Weight to sound ratio
Price is incredible for what you get
Cons
Will get by in a larger gig, but not enough for more than 200 people
Speaker leaves a little to be desired as far as sound quality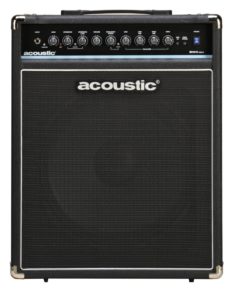 If you are looking to pack in the most features at $200, look no further than the Acoustic B100mkII. This thing is a huge (for the price) amp that is decently well-respected within the community with only a few complaints mostly centered on longevity and reliability.
Acoustic, as you may know, makes great high-end amps particularly for upright bass playing. This amp is less for jazz and more aimed at a budget consumer wanting to get features over hugely respected quality. That is not to say that this is a bad amp, you just should know that you are getting something that is slightly more quantity over quality.
The first thing you will notice about the amp is that it is the largest on the list so far by a long shot, At 100 watts, this thing will get cut through pretty much the loudest garage band out there. It also features a 4-band EQ and a few effects for you to fine-tune your sound. Along with that, it has a built-in acoustic pre-amp.
The largest complaints with this amplifier stem from the effects and the longevity. Most reviewers state that the clean channel is a little less clean than desired. Maybe this is not a huge deal for your sound, so it could be a wash out, but if you want a pristine clean channel you might want to look elsewhere.
As far as the longevity goes, people say this thing has a lifespan of about 3 years. This could be long enough for you to graduate to a higher-end amp.
Pros
lots of features
lots of volume
still decently portable
Cons
Clean channel has some dirt
has a shorter lifespan
$200-300
As we move even higher, we are getting into the working musician amplifier. These amps will probably make decent stopping points if this is the maximum amount you are willing or able to spend on an amplifier. In this price range, you should find pretty consistent reliability, good design, decent volume output and more features than in previous price ranges.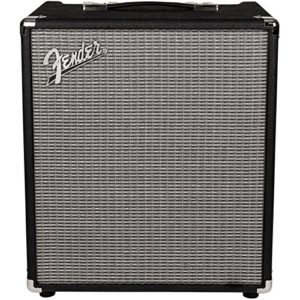 Here we go with the 100 watt Rumble. As far as budget amps go, if you want something with very few frills reliable enough to get the job done day-in-and-day-out, this amp could be as far as you need to read.
Like the other Rumble series amplifiers that have made their way onto this list, the amp has 1/8″ outputs and aux inputs for your mp3 player. It also has the dedicated overdrive circuitry and the various tone tuning tools on the others.
This amplifier differentiates itself from its younger siblings by being large enough to keep up on most gigs you will ever play unless you play huge arenas. It does this while keeping the very pleasing tone qualities of the other Rumble amplifiers. It is also still lightweight enough to be portable for most gigs and most players.
The major complaints are that the amp does not feel to be built that well. Most reviewers state that the amp really looks and feels budget.
Pros
Great sound
Good features
Serious volume
Portable
Cons
Build quality is lacking
High end of this price range for a more bare bones amplifier
If I had to nickname all the amplifiers on this list, I would call this one the "little engine that could". Peavey, in my opinion, is a seriously overlooked company in most price ranges. Peavey had their heyday in the 70s and 80s and I believe they have largely been overshadowed by Fender and Marshall since then. I think this has to do with their reputation for shoddy build quality in newer models.
Fortunately, the Max Bass 110 is a really great amplifier at a really great price! Peavey positions this amp as a "little but big" amplifier and I think that is a fair representation. The Max Bass 110 does not look like a 100-watt amplifier but it sure packs that 100 watt punch.
What else does it pack? A few inputs and outputs and some special tube modeling circuitry along with the necessary bass, mid, treble modification knobs and some other adjustments.
The amp is heavy, though – much, much heavier than the Rumble at 35 pounds. Now, is this prohibitively heavy? That is up to you. I am also not sure that Peavey's tube modeling circuitry is anything but snake oil.
For what I do know are facts about this amp, the price is great and so is the sound.
Pros
Reliable, unlike some other modern Peavey amps
Big sound, smaller size
Good, heavy build
Cons
Heavy
Some features are more snake oil than anything else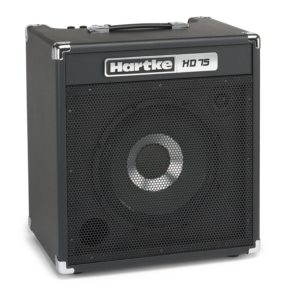 This particular amp is the smaller of the 3 amps I am listing in this price range, but I do not think that means you should not consider what it has to offer. For example, if you are someone who places any stock in online reviews this particular amplifier frequently gets 5-star reviews on Amazon.
Hartke has created an interesting combo amp here for a very interesting price. It brings most of the necessary features and comes with a 7-band EQ and effects loop for more experimental tone adjustments. It also has great sound quality and a very respectable, tight low-end.
Additionally, the 100-watt size of the previous two amps in this budget may be off-putting for some people. Cutting 25 watts worth of weight and size gives you the very pleasantly portable HD75.
Pros
Great sound
Compromise size
Good range of features
Price
Cons
75 watts is not 100 watts
Hartke is a lesser known brand
$300-400
In this price range, the biggest change from the previous is the size and power of the amps.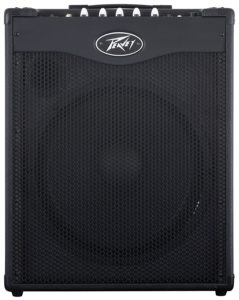 Much like the Max Bass 110, this is a solid amp. This model makes a pretty significant jump in size from the last all the way up to 300 watts. This is probably the maximum size amp you would ever need. But, does it have the sound?
The $350 price tag of this amp gets you a 3-band EQ, a "psychoacoustic" speaker enhancement (more snake oil?), the renewed Peavey build quality, a chromatic tuner built-in, and the requisite aux inputs and outputs. It also has buttons for "punch", "mid-shift", and "bright". I think these designations will only mean much to the experienced Peavey user because they seem to me to be Peavey designations more than anything else.
How does the amp sound? Good and that is really all I can say. It is not an incredible sounding amp. I think it sounds like the Peaveys of old. If that is your thing, plug in your Rickenbacher and get those windows shaking.
Pros
Loud
has necessary features for most bass players
Cons
"Psychoacoustic" does not really seem to mean anything
Some people claim it is quieter than other 300 watt amps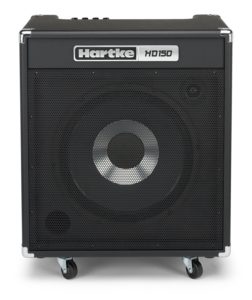 Much like its younger brother, the HD150 makes all kinds of very interesting, highly beneficial decisions to result in a great bare bones amplifier that sounds just great for the price.
The HD150 brings all of the features of its younger brother in a slightly larger package meaning you get more volume for your money here. In my opinion, 150 watts is pretty much the maximum necessary size for a combo amp. If you are going any bigger you may want to consider moving to separate amp and speaker systems. Or, the house sound system and engineer will have other ideas like putting you through the system.
The HD150 brings 150 watts of output, a 15″ speaker and a 2″ ceramic tweeter, a 7-band EQ and the requisite inputs and outputs. This is pretty much everything you need and very little that you do not. It also brings an XLR output for wiring up to a PA that you may or may not use but it is a nice thing to have when you do need it.
With the HD150, you are getting dangerously close to sounding like a professional rig. But, the sound quality of the rig is limited by the 1×10″ speaker set up.
Pros
Good design
Great sound
Has all of the necessary outputs and inputs
Cons
This is a 250-watt monster. If you are looking for an amplifier trying to do something unique, look no further.
The BG250-115 is a decently sized, decent sounding amplifier with one special feature. It features two "toneprint" slots which allow you to change your effect on the fly in conjunction with an iPhone app and outboard pedals. The TonePrints are custom created effects that you can change using the app or downloading them from the TC Electronic website. Supposedly, they are created by the actual artist who the effect is modeled after.
Other than the TonePrint feature, the app has a built-in tuner that can handle up to 6 strings which is very handy. It also comes with all the other inputs and outputs you should need.
As far as TonePrint goes, I am not sure that I was impressed enough by what I saw to consider this a feature that really makes this amp rocket to the top of my list. I think that some effects were quite good and did a fairly good job of getting at the sounds they were supposed to. Others seemed like filler.
Overall? If you want a 250-watt amp that has a unique and slightly experimental effects system, this amp is one to watch.
Pros
TonePrint system is interesting
Loud
Good amount of power
On the lighter side
Cons
TonePrint is a little bit unproven
TonePrint effects leave a bit to be desired
Pretty big for most players
$400-500
Here we sit at the very top of the budget range we are considering. $500 is pretty much basic professional amp territory. I am not saying that you will get bass rigs comparable to your favorite pro's bass rig, but you can probably sound pretty darn close given the quality and build we should expect in this price range.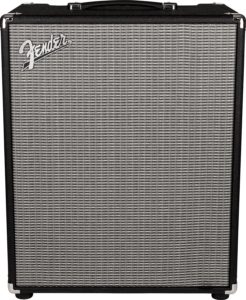 Unfortunately, Fender made a strange decision here. In my opinion, the 200 is the weakest entry for one fundamental reason: 200 watts is not enough to keep up with some amps lower down on this list.
The problem is this. Paying $500 for an amp means you can, fairly reasonably, expect an amp to keep up with the low end at all volume levels. Unfortunately, I do not think that the v3 200 does this. For certain low B strings, the amp is unacceptably muddy at high volumes.
The worst part about it is this: at about $100 more you can get the 500-watt model that basically alleviates this issue by having a bit more power. I think Fender should have placed the 500-watt model at this price point, but that is just me.
As far as the rest of the amp goes, it is a Rumble so it is quite good.
Pros
Great Fender Rumble sound
Sturdy
Cons
Amp cannot keep up with himself
Fender makes some strange pricing decisions that make you wish this amp did not exist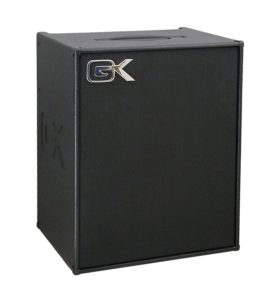 Gallien-Krueger, a top name in bass amplification, makes its first and only appearance on this list. Why? In this price range, I am not sure if you could sound better than you will on this amp.
This MicroBass offering is small (only weight about 35 lbs) and packs plenty of punch. Additionally, it has a 15″ Paragon speaker that simply sings. The only amps that come close to sounding as good as this one does on this list are the Fender Rumble series.
What this amp skimps on are features like effects. There are no onboard effects like the BG250 from TC Electronic yet this amp usually runs $150 more. If you are looking for integrated effects, this particular amplifier will not suit you.
If you are looking for something with a good mix of power, portability, and sound the MB115-II may be the perfect amp for you.
Pros
Sound is great
Lightweight yet powerful
Speaker is solid
Cons
Bare bones, amps in lower price brackets have more features
What to Consider When Considering a Bass Amp
Like the electric guitar, the amplifier a bassist chooses can lend a lot to their signature sound and look. When purchasing an amp, you want to be aware of what you are buying and the effects that decision will have. Are you an acoustic bassist? You should choose an amp that will render the sound of the upright bass in the most favorable way. Are you going to use a lot of effects? Maybe you should think about what effects you would like to have built into the amp. Are you looking for the best, all-around amplifier under $500? You have a lot of decisions to make!
Solid-state or Tube?
In this price category, I cannot recommend considering a tube amp. Tube amps typically offer a much more musical overdrive. Solid-state amplifiers can play loud and require no warm-up time, but the overdrive in the higher volume settings is not musical when compared to a tube amp.
Solid-state amps avoid their overdrive issues by incorporating enough overhead into the design to prevent hitting those volume levels. Tube amps are typically the Cadillac amplifiers on the market. Looking at this budget category, some tubes can cost $100 or $200 soaking up the majority of your budget.
If you still want a tube amp, perhaps looking at a small, low wattage option in the upper end of this price range will do well for you.
Combo or Amp/Head?
This decision is all about whether or not you need a high gain unit. Are you playing smaller clubs or studios? High gain may not be the route you should take. If, however, you plan on playing large venues then you may consider a separate amp and head to make sure you can push the gain to your desired levels.
Modeling?
There are a number of ways to go about utilizing different modeling technologies when it comes time to perform or record. I would warn you that for many players, modeling amplifiers is not a substitute for the real thing. There are some amps in this price range that have some moderate modeling capabilities built in. But, it is up to you to decide whether or not modeling is the decision for you.
Modeling, basically, utilizes digital technologies to "recreate" certain classic amplifier sounds. It can also recreate specific sounds from specific studios nearly down to the specific day. I have recorded in situations where modeling was used and was happy with the results. But, it certainly is not a "natural" sound, although the technology is growing enough to where someday it might be.
Speaker Size
Bass players I have met have tended to have a thing about big amps even on small gigs. What I will tell you is this, from the drummer's perspective, bigger is not always better. Sure, larger speaks will put out more low-end rumble, but what does that rumble do for your music?
Like most things with amplifiers, it is up to you to consider whether or not the larger speaker is better for you. One point to note, a smaller speaker will be less to carry, weight-wise.
Channels
Like guitarists, bass players tend to enjoy having the luxury of multiple channel capacity on their amplifiers. Why? This allows you to queue up a couple of different sounds in your amplifier and change them on the fly with (usually) a flip of a switch.
Do I Need a Practice Amp and a Gig Amp?
In this price range, I would advise you to spend more on one amp rather than trying to split your funds across two amplifiers. Most bass players desire to have a single high-quality amp that is more versatile. Like most things, though, this is your money we are talking about and if you want an amp for home and an amp for the road, I will not advise against that.
If you are looking for a practicing solution, some amps on this list feature 1/4″ jacks for headphones which allow for private practice sessions.
Shortlist of things to look out for
Speaker size: Is the speaker the size that you want?
Inputs and outputs: depending on your application, you might need to check and make sure that your amp can support
Power: does the wattage match your requirements?
Portability: If you are playing on going the one amp route and you don't want to kill your back you should consider the portability of your amplifier before buying.
Channels: Does the amp have all the channels you want?
Getting an amp in this price range with all of your features might be a little bit more difficult due to the various constraints a sub $500 price point puts on manufacturers. But, it can be done with very few sacrifices if you know what it is you want and are willing to stick to these few considerations on your way there.
What Is The Right Choice For Me?
The fundamental consideration you should make is your budget. After that, you should look at the list of amps I have given you here and my rundown of the various topics to consider when you are buying a bass amplifier.
If you want features, understand that in this price range you will usually sacrifice a tiny bit of sound quality – whether that is low-end or overall quality – in favor of getting those extra features.
On the other hand, bare bones sound quality is also easily achievable in this price range if you use your resources wisely.
Furthermore, consider whether or not making a purchase like buying an amp that is geared towards practicing means that your amplifier is as versatile as you need to be. Trust me, there is nothing worse than showing up to a gig knowing that you will rely on using their PA to put out enough volume only to find that it is broken or stolen or otherwise out of commission.
Buying an amp, in other words, is as personal as choosing a bass finish. Think about what you want and then decide which amp fits your budget and then your other requirements the best.