(Last Updated On: January 23, 2018)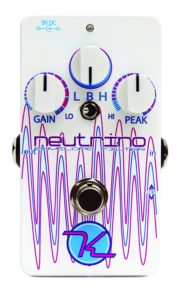 Wah pedals are ubiquitous on the boards of many guitarists worldwide. They've been one of the most widely used pedals since the 60s, providing an effect which ranges from subtly sweetening a tone to full blown manipulation. We actually have trumpeters and trombonists to thank for the wah sound, who used to move their mutes to create this effective crying sound.

Top 4 Best Auto Wah Pedals: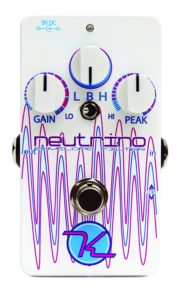 This fantastic pedal allows you to explore a wealth of new and exciting effects for your guitar. It features a Neutrino Envelope Filter with straightforward controls. This pedal has a gain control, peak control and a filter selection with 3 different timbre filters for many sonic possibilities. It sounds like a vintage unit, giving a proper funk sound right out of the box. This pedal is perfect to replicate all your favorite funk tones and like auto wahs, you can set it and forget about it.
Features
This pedal unit comes with just the three knobs and two switches. It takes a while to dial in the perfect tone, especially if you're not experienced with wahs or envelope filters but overall, it's easy to use. Range control (hi to low) control how mellow or sharp your wah is.
3 filter timbres can be selected, a direction switch on the side controls whether the wah goes up or down and the top mounted switch controls whether high or low frequencies are stressed. It's a strongly built unit too, roadworthy and compact. The pedal is well made by a boutique manufacturer, Keeley, who hand-makes units.
Tone
These pedals provide a bespoke tone and it won't suit everyone. This one has a classic funk sound which is rich, vintage and warm in tone thanks to its optocoupler design. That's the big plus to this pedal, it resembles classic wah pedals with the auto wah twist to boot. The harder you play, the greater this pedal will respond. Individual notes are creatively articulated for funk stabs and vowel sounds.
Some parts of the frequency spectrum stand out more than others and this creates problems for some guitarists who move up and down the neck. If you're gonna play funk with this, though, then you'll find it amazing. It's easily one of the most lovingly crafted and best auto wah pedals on the market. Keeley does it again!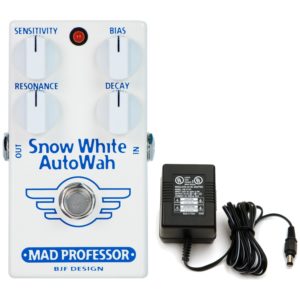 Amongst auto wah discussions, there is one model which keeps cropping up. The Mad Professor Snow White is a go-to option for many guitarists looking for auto wah effects. It can either laden your tone with funk or provides subtle nuances to give your tone a certain quirk. It isn't that expensive either and is very simple. A real set-and-forget pedal that works for guitar and bass. This pedal has earnt its place in many guitarists from funk to rock.
Features
Made by hand in Finland, this great auto wah features a classic white box design. It has four rotary knobs and a stomp switch for turning the pedal on and off on your board. The knobs include sensitivity, bias, resonance, and decay. It's simple to tune these up and they give you a plethora of cool wah options. The decay control is quite unique and controls how quickly the frequency falls in the envelope.
A fast decay effects quick notes or a slow decay effects sequences of notes together. Combined with the sensitivity setting, this pedal is more flexible than the others. Filter resonance and sensitivity can be easily dialed in too – it's plenty to give you access to classic wah tones that articulate themselves automatically.
Tone
This extremely popular wah pedal allows guitarists to tap into a huge variety of tones. It's organic, classic, warm and vintage sounding thanks to its 1991 BJF rack mount wah circuit modeling. From funky effects that affect single notes quickly to slower classic wah effects, this pedal gives fresh meaning to the auto wah's flexibility.
You don't need to oversaturate the signal and can use this wah quite subtly or really crank its effects for full-blown funk. It's a great pedal, handmade to great effect and has to be one of the best auto wah pedals out there.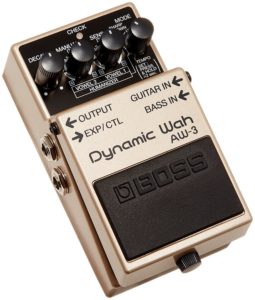 Most pedal line-ups feature a Boss. They aren't known for their unique boutique pedals but they are known for their faithful and durable pedals which add new features to tried and tested formats. Often, Boss pedals trade in their vintage circuit modeling for extra 'stuff'. This suits some genres nicely. If you're a modern funk guitarist or play for an electro band, you don't necessarily need a vintage tone to your wah.
Features
This pedal has separate inputs for guitar and bass. It's rugged and durable but obviously doesn't have the same visual delight as some boutique wahs. It also has an expression pedal input which allows you to access a truly unique world of wah goodness. You can program this wah with tempo settings; it has a unique 'humanizer' to give vowel-like sounds to your instrument. That's pretty cool – Boss always squeezes in a unique option.
Tone
People love this pedal because it has some original twists. It's a little more digital in tone, as it forgoes quality circuits for extra features, like many Boss pedals. That doesn't matter in some rigs though, and this pedal makes up for it with cool options. The auto wah effects provided by this pedal come close to the boutique models on the list but lack warmth.
The humanizer sounds great though, it'll really capture the imagination of some guitarists. With tempo selection settings you can set the wah to your beat or instrumental and place complete faith that you'll wah along in time.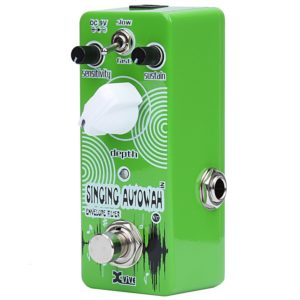 If you want an auto wah but don't want to fork out for something expensive then this might be the ticket. This pedal is cheap and it opens up super-cool sonic possibilities with ease. It's a small unit and it's simple to use too.
Features
This has fewer features than many auto wahs but it has the key ones. With sensitivity, sustain and depth you can access all the classic or modern wah effects you need and a switch enable you to select between fast or slow for slower or more staccato play.
Tone
The circuit in this is basic and it won't provide vintage or fat tones but it will juice up your tone with funk wahs and that's the point, right? For the price, the tone you're getting is versatile and the circuit reacts quickly to guitar attack for fast playing. It's articulate and easily manipulated.
How to Find the Best Auto Wah Pedal
When we think of the wah pedal, we think of the classic foot-controlled pedal what accompanied disco and funk music. They're practical for many genres, though, and the foot controlled models can be manually manipulated to cut off parts of the frequency range to create that famous wah-wah tone. Now, though, a new breed of wah pedals, named auto-wahs, have arrived on the scene and proving to be different beasts to wah pedals, they're growing more popular.
The key difference is that an auto-wah shapes the tone of your guitar depending on the input. This means their envelope filter is partly controlled by your guitar's attack and decay. They automatically generate the wah effect based on what you're playing, according to set controls. You don't need to worry about the pedal when it's set up.
This set and forget function is ideal for some scenarios where it's impractical to attend your pedal the whole time you want to use a wah. For funk players, the auto-wah equips you with a constantly effective wah effect that responds to your picking dynamics. Auto-wahs are flexible, creative and cool. We're used to hearing and seeing wahs but the auto-wah isn't the same, it's a different beast and that's how it should be treated.
Conclusion: What's the Best Auto Wah Pedal?
These auto wahs are brilliant for spicing up your pedal board for funk and disco lovers or lovers of FX-driven sounds. They're great pedals for modifying your tone. Auto wahs are not the same as wahs and therefore, you can't just turn your nose up at one if you already own a wah! Why not own both?
They're creative and easy to use, bringing a range of new sonic possibilities to your rig. Which is the best, though? Well, 3 pedals here are similar prices and the other one, the Xvive auto wah, comes in at a considerably cheaper price point. If you want to wade into the realm of auto-wah then that's your ticket. It's cheap, functional and packs some good features.
If you're really wanting a proper auto wah pedal then the other 3 all provide good options. The Keeley KNEUT provides 3 filters for different wah effects and its vintage modeled circuit gives the pedal a warmth which fattens your tone nicely. Mad Professor Snow White offers similar tone warmth and is widely touted as the best auto wah available. It's a boutique pedal, handmade by experts to really provide a specialist auto wah effect which is easily dialed in.
You can't go wrong with the Mad Professor Snow White, it has to be one of the best auto wah pedals in the world today. The Boss pedal here offers some extra bits and bobs at the sacrifice of quality circuitry. For many, this isn't an issue. If you have more pedals, good amps, etc, then you might just want a flexible auto wah pedal and the Boss fits this bill as the best auto wah pedal.