(Last Updated On: December 21, 2017)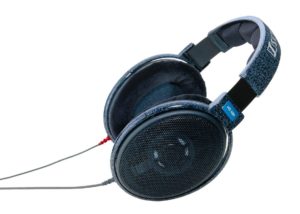 I am not a big fan of the term "best audiophile headphones" because all people are different and everyone has their own preferences.
However, there are still some brands and models which can be described as truly "audiophile" from anyone's point of view. I will try to cover this topic thoroughly below.
Top 6 Best Audiophile Headphones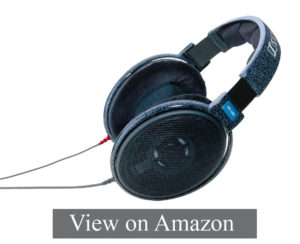 Sennheiser HD 600 are world-class headphones and they sound amazing. In fact, they are so good that some manufacturers actually use them to tune their amps.
We will be talking about that as I get into the sound quality of these headphones.
Features
Let's start by walking through the features of the headphones.
There is a grill on the outside, which is replaceable and interchangeable.
The headphones have a click adjustment. I set six clicks for my comfort, but this thing is really wide to accommodate even very large heads.
There is also a very comfortable and thick velour padding.
The ear cups, which are oval-shaped, are also very large to accommodate any size of ears. There is enough space on the inside so your ears are not pressing up against the driver. Overall, it is a very comfortable experience for the ears.
These headphones seem to be quite durable and I think they will definitely last you for a few years without any problems.
The headphones feature a very comfortable headband up to the top. The foam, whatever they are using, is very comfortable and does a really nice job.
You do have a little bit of horizontal and vertical pivot as well as with the ear caps. This allows you to get a perfect fit and perfect seal. You do not need a ton of pivot, so there is just enough here and it works perfectly.
The headphones come with a detachable cable. The cable is 3 meters or about ten feet. It ends in a 3.5-millimeter connector and you can add the quarter-inch adapter to it.
Comfort and Fit
These headphones are very comfortable—they have nice velour earpads and the padding up on the headband may be the most comfortable padding I have ever felt on headphones. They are also very easy to wear in hot or humid climates.
Overall, the headphones are so comfortable that you can definitely wear them all day long are without any problem.
Sound Leakage
This is a quick note before I share my thoughts regarding the sound quality of these headphones.
Sennheiser HD 600 are open headphones, so they are going to leak sound. The volume is not too loud even on high volumes, though, which is an important thing to be aware of if you are using them around other people.
Sound Quality
The sound quality of these headphones is nothing less than amazing.
They sound spectacular. I would describe the overall sound of HD 600 as being very smooth, very neutral and slightly warm-sounding.
The bass is very precise and pristine, and the sub bass response is a bit on the weak side.
The mids are excellent. They are not too in your face and they are not to recessed. They are just perfect.In fact, I do not know another pair of headphones that do as good a job in meds as these headphones do at this price point.
They have nice and clean high-frequencies. The treble is bright and pristine, but it is not too bright up top and in it is not rolled off.
The soundstage is nice: wide and very accurate. You get great instrument separation, and the imaging is beautiful with them. The detail is also beautiful: they microscopically reveal details in music that I have never noticed, even after listening to the same music for years!
Overall, these headphones provide an amazing listening experience.
Battery Life
Sennheiser HD 600s are 300-ohm headphones, which means it takes a little more energy to properly power them. You are not supposed to listen to them on an iPod Touch or other electronic devices because it will drain the battery quickly.
If that is a big deal for you, I would actually step down to something like HD 598s. HD 598s are 50-ohm headphones and they certainly sound great with something like a portable MP3 player or another portable device.
Additionally, I think you will definitely want to use an amp with these. The nice thing is you can use just about any type of amp and they will sound incredible.
Comparison to Sennheiser HD 598
Sennheiser HD 598s sound phenomenal and you may think they are the world's greatest headphones. When you compare the 598s to the HD 600sa, however, a whole new world opens up and you realize that 598s are good but HD 600s are great.
There is definitely a noticeable difference there. Specifically, the bass does feel a little bit less than on HD 600, the mids also feel a little bit more in your face with the HD 598. You get, I would say, a more neutral, natural and balanced sound with the HD 600s.
Additionally, the soundstage is wider on the HD 598s—I believe that really is just due to the fact that the 598s have angle transducers.
The soundstage on HD 600s is more realistic and accurate.
If you really want great 3D imaging and want to hear everything and feel like it's surround you, the 598s might be a better choice.. If you're looking for a more normal experience aimed at getting the best listening possible, the HD 600s are much better.
Once you start listening to these headphones with a decent amp paired to it, it becomes one of those experiences where you just think "Wow… how did I not listen to them before? How did I not find out about them? I wish I would have got them sooner."
These headphones also sound great with any genre of music. In particular, I think they sound great with acoustic and jazz recordings. However, you really can listen to anything: rock, metal, jazz, electronic music, etc.
It is really an enjoyable experience.
Pros
Absolutely the best audiophile headphones in this price range.
Very comfortable to wear even for long listening sessions.
Cons
As any high-quality audiophile headphones (300 ohms!), they need high impedance to be charged so you are not supposed to use them with phones, MP3 players or something like that.
Conclusion
There are some reasons you certainly might want to consider something different.
As I said above, they are open headphones and they are going to leak sound. If that is an issue, you might want to consider something else, such as closed headphones to block sound leakage.
If you do not have an amp or do not plan on purchasing an amp, I would recommend actually stepping down to the HD 598s. They are 50-ohm headphones, so they can be powered adequately by a phone or a portable MP3 player.They still sound really good and are designed to be powered by those types of devices, so if that is your situation, I would definitely recommend stepping back.
The bottom line: Sennheiser HD 600s are truly world-class headphones that provide a remarkable and noteworthy listening experience. They are really one of the best buys among the audiophile headphones now.I would highly recommend them whether you are stepping up to get your first pair of truly Hi-Fi, high fidelity audiophile headphones or if you are looking to simply add another pair of headphones to your collection to compare them against others.
If you want to get really natural and neutral sounding headphones that just do an excellent job in everything, I think you would be really happy with these headphones.
So, in my honest opinion, Sennheiser HD 600s are the best headphones for any audiophile.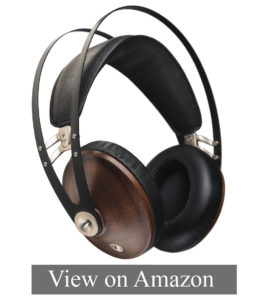 Welcome to my review on the Meze 99 Classics headphones.
These audiophile headphones impressed me because they not only sound incredible but look great as well.
The company and team of audio enthusiasts that created these great sounding headphones are actually located in Romania and they spent two years designing and crafting these headphone in-house.
As a result, they have engineered truly high-quality and natural-sounding headphones that are also beautifully crafted.
Even though Mese 99 Classics are headphones that I think just about anyone would enjoy listening to there are a few reasons they may not be the perfect choice which I will discuss in this review as well.
What Is in the Box?
Here is what you get included with these headphones:
Two sets of cables
A hard case
A smaller accessory case
A quarter inch adapter
An airline adapter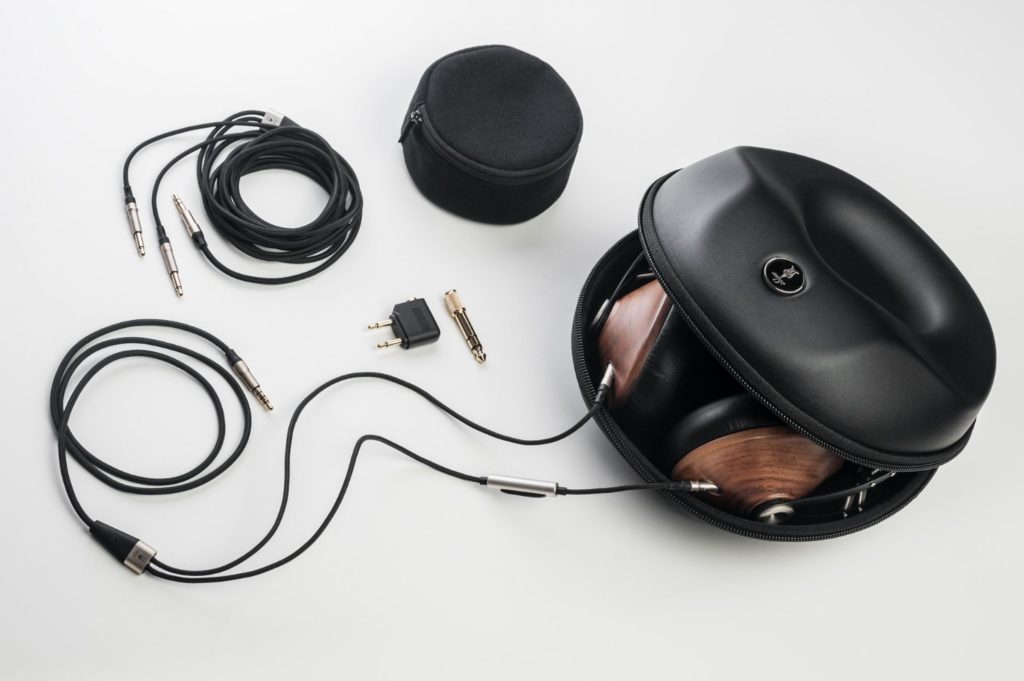 Both braided kevlar cables are detachable and tangle-resistant.
One cable is a shorter 4 ft. cable with an inline microphone and controls. The other cable is a 10 ft. long cable.
The connectors are all high-quality, and both cables terminate in gold plated 3.5 millimeter straight plugs.
Design
Both the hard case and smaller accessory case are well-made. They definitely are a good complement to the look and feel of these headphones.
These headphones have a beautiful and elegant presence. The combination of wood and metal is really well-done.
There are currently three different design and color options, which include the maple silver, walnut, and walnut silver, which is the option I have chosen for the review.
Each design includes real walnut wood ear cups, which make each pair of Meze headphones completely unique and luxurious looking.
Comfort
The ear pads and headband are made of synthetic protein leather and give you a very comfortable feeling, though you will notice some heat buildup around your ears—particularly in warmer environments or during long listening sessions.
The ear pads also contain medium density memory foam which has a nice amount of cushion to it.
The headband is self-adjusting which is a unique feature and a very effective way to get the perfect fit. This seems to contribute to the headphones feeling lighter to wear than they actually are.
Overall, these headphones have a nice and cozy fit.
Both the headband and earpads feel very comfortable. Weight distribution is excellent so you do not get hot spots on the top of your head.
The clamping force is moderate.
They feel secure while wearing them without feeling like they easily slide off your head.
The ear cups and ear pads are just barely large enough to fully surround your ears. It is more of a snug feeling as your ears are touching the inside of the ear pads.
However, if you have larger ears you may find the fit to be a bit too tight or it may start to feel uncomfortable after an extended period of use.
I also felt a little more pressure on the tops of the earpads. It is not a big deal, though, as you can still wear these headphones comfortably for hours at a time.
Also, these headphones have a nice seal and have pretty good noise isolation which means you will not need to turn the volume up too loud trying to block all ambient noise.
Ultimately it is a unique top-notch design which helps you to quickly and easily get a comfortable fit every time.
Sound Quality
This is where things get really exciting. The Meze 99 Classics are one one of the best sounding headphones at this price point and in my opinion, they can even compete well in five-hundred-dollar and under price ranges.
Overall, they have a sound signature that is very dynamic, punchy and filled with a crisp and detailed treble.
They produce a very enjoyable sound that manages to stay within the normal quantities of both bass and treble. With an impedance of 32 ohms, these headphones are super easy to drive and sound great with just any smartphone.
Bass
The low end is a real pleasure to listen to. There is a slightly based emphasis that goes down deep into the sub-bass region.
On songs with a tremendous amount of bass, you actually get a sense that the bass is shaking your head.
The mid-bass is remarkable as well. With faster paced songs like Josh Vietti's electronic remake of "Canon in D minor," the speed of the mid-bass really shines through. It hits hard and leaves just enough decay without it sounding too muddy.
Whereas other headphones will tend to emphasize either the low bass or mid-bass, the 99s managed to implement both mid and low bass wonderfully, which is why the bass on the Classicssound weighty without being overly muddy.
As a result, you also get a strong sense of impact as well as nice rumble to go along.
Ultimately when a song demands bass, it will be there. When a song has the bass levels toned down, however, the Classics accurately represent that as well.
Mids
Even with the slight emphasis on the low end, the mids are well preserved and sound fantastic. On a song like "The A-Team" by Ed Sheeran, his vocal sounds as smooth as butter, his voice does not sound dry and the mids on the Classics have a liquid quality to them which makes vocals sound even more realistic.
This effect is even more present on female vocals and songs such as Celine Dion's famous "My heart Will Go On". Those qualities of the mids make her voice sound emotional instead of lifeless or sterile.
Apart from vocals, the mids also sound great with things like cello or piano. For example, in the "Moonlight Sonata" by Beethoven, the piano notes have a nice heft to them but they also sound fluid and cohesive.
What you get from the mids is a presentation that will sound warmer and more refined than what you might be used to hearing with headphones that typically have a dryer sound.
When it comes to the mids, these 99 Classics really excel as they are able to give you a realistic presentation that doesn't sound too cold or sterile.
Treble
Finally, we get to the treble which is where things can get tricky.
Why? When choosing headphones the higher frequencies can often make or break a person's decision to buy a pair of headphones.
For example, if the headphones have excessive treble it will sound bright and fatiguing. However, if headphones lack treble they can sound exciting and muddy.
This is where the Meze 99 are unique. They do have treble that leans a little more towards the brighter side.
Unlike other headphones which can tend to respond poorly to equalization, the Classics actually respond very well to it.
For example, when you are turning down the treble on the Meze 99s, only the slight uneven peaks become toned down but the detail and the sound are not lost.
The toned down treble of the Classics still has enough detail to let you discover new things in your music even with lower quality tracks or songs that have not been mastered well, but not to the point where it will reveal all the flaws in the recording.
This allows you to tone down the treble on lower quality tracks in order to improve the listening experience. This really makes quite a difference because when the treble is unequalized, lower quality tracks will suffer as the detailed treble will uncover flaws that may be in the recording.
For example, with songs like "How to Love" by Lil Wayne, all the processing and grain is clearly audible and makes, overall, a less pleasant listening experience. However, when you are listening to higher quality classical jazz or other well-recorded tracks, this brings out a very different and much more enjoyable experience.
The amount of detail that these headphones can showcase with the song like "Within" by Daft Punk is almost overwhelming but in a good way. You are able to hear every last ounce of sparkle and shimmer in the recording without it ever sounding harsh or fatiguing.
At the same time, the presentation that the treble on the Classics puts out is very realistic and does not ever end up sounding too hyped or unnatural. For example, when you are listening to high-quality tracks like Josh Vietti's electronic "Canon in D minor," the entire song sounds precise with a speed that never loses its fluidity.
You get a very clean treble with plenty of speed that adds a lot of excitement to the music.
Ultimately, whether you prefer a more relaxed sound presentation when it comes to the treble or whether you prefer a more vibrant and detailed sound, it will not matter as the 99 Classics respond very well. As a result, the equalizationwill allow you to enjoy the best of both worlds.
The treble definitely stands out and makes these headphones really amazing for someone who listens to many different genres and types of music.
Pros
Amazing sound quality from any point of view.
Excellent price for top-notch audiophile headphones.
Very comfortable on ears.
Luxurious-looking build and high-quality materials.
Both braided cables are tangle-free and detachable.
You can answer calls without removing your headphones because of the cool inline microphone.
Cons
May be uncomfortable for people with big ears.
Not practical for frequent transportation.
Conclusion
Even though Meze 99 Classics are one of the best-sounding and perfect-looking headphones for audiophiles that you can buy at this price point, there are a few reasons you may prefer something else:
If you prefer headphones that are more loose-fitting around the ears, you may want to go with something else. These headphones are very comfortable headphones to wear, and they provide more of a snug and cozy fit. If you like headphones that feel less snug or have more room in the ear cups, you may want to go with a different choice.
Also, if you want headphones that are geared more for portable use, this model may not be practical for your needs. The included case is excellent for storing these headphones, but the size of it and the size of the headphones themselves are not practical if you are planning on taking them with you often.
Otherwise, these headphones have no problem competing with any of the top headphones in this price range and even above in terms of sound quality.
What sets these headphones apart is the pride of ownership factor you get with them. Anyone should find them incredibly enjoyable to listen to. Additionally, if you appreciate an elegant design you will absolutely love owning the Meze 99 Classics.
Sennheiser HD 558 are, maybe, the best audiophile headphones under $150.
Design and Comfort
Sennheiser HD 558s are positioned as high-end audiophile headphones. They have a streamlined sophisticated design, modern but not flashy. The exterior is plastic but they feel solid and there are not many creaks or rattles.
Despite their size, they are surprisingly lightweight.
They do not fold up or come with any sort of storage pouch.
These headphones have got velour ear pads. They are very soft and what is more, they let your head "breathe" and keep it from getting hot and sweaty overtime like the leather can. After trying them you will probably wish other headphones had the same pads.
Their earcups are perfectly sized and rather deep. Your ears do not touch anything inside. The nice and big pad inside the headband is made of the same velour material.
While you do feel some weight on the top of your head the pad does a pretty good job of spreading it out so it does not get annoying over time.
The amount of clamping pressure from these headphones cans is just right: they stay on securely but do not squeeze too tightly.
In short, these headphones are very comfortable. You can wear them for a long time without fatigue.
Sound Quality
The 558s are open back headphones meaning that the ear cup is not solid. The idea is to let sound escape from the headphones to give a more spacious soundstage.
It feels less like the sound is right up against your head and more like you are sitting close to a pair of really good speakers. Stereo imaging is a little bit narrower but I think that is a good thing. The overall effect is that you tend to forget even wearing headphones.
That open effect goes both ways, though. The sound inside the ear cup can leak out but your environment can also lead in.
This can be really convenient at times: you can hold a conversation with someone without instinctively reaching to take your headphones off.
However, it does limit where and when you might use them. Let's just say these headphones are not for when you are out.
They are more for hanging out at home, reading a book, playing a game, watching YouTube – anywhere that your surroundings are quiet and there is no one else to bother with the sound that leaks out.
The best way I can describe the 558s sound signature is "balanced". Open back headphones, in general, tend to be a bit weak in the low end but these headphones are surprisingly solid.
The bass is robust and tight.
The highs are very smooth. They are crisp but only when they need to be, they never get harsh. They are warm but carry impact.
The result of all this is a really compelling sound that never gets tiring.
Conclusion
As I said above, I think that Sennheiser HD 558 are the best headphones for audiophiles at this price range and they are so approachable that you do not need stereotypically deep pockets and snobby attitude in order to enjoy the truly high-quality sound.
These headphones are for everyone.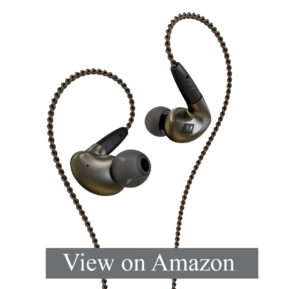 The Mee Audio Pinnacle P1 are a high fidelity, in-ear headphones.That is the only representative of earbuds type in our list.
They utilize an advanced moving coil transducer and acoustic diffuser in order to achieve a balanced frequency response. This recreates music tracks with maximum clarity and resolution.
The purchase includes a protective carrying case, 3 sets of memory foam ear tips, 6 sets of silicone ear tips, and an extra cable with a mic and remote for phones and tablets.
Sound
This model has an excellent balance across the entire frequency range. The highs, mids, and lows are all represented very well in terms of presence. In addition to this, the separation of sounds and the micro details are precise. This allows for very life-like vocals.
In terms of overall tonality, it tends to be neutral with a noticeable tilt toward the brighter side. The sound is dynamic, with excellent resolution and transparency, and good layering and separation of instruments and vocals.
The lower mids have a balanced body which gives the sound a more natural feeling. Going into the upper mids you are faced with a resolving and detailed sound which can reach micro-detail level. The treble is extended, bright, and crisp, with a great definition.
Bass
The bass on this model is represented well: You get a nice smooth sub-bass layer where the emphasis is more on quality rather than quantity. You can still hear the presence of sub-bass, though it is not as enhanced as other models. It is enough, however, to build a foundation under the mid-bass which has an articulate punch.
For audiophiles who crave a deep bass, this model might only fare so-so. Especially because they are in-ear, and don't offer much of as much of a soundstage feeling as their open back counterparts. Nevertheless, for those that are not too picky the bass will perform very well.
Design
Because these are in-ear headphones, they are very lightweight and easy to transport. At first, they might feel a bit heavy, but they have an [excellent] weight distribution. After some time, they often feel like you are not even wearing them. This design cuts back on listener's fatigue, although some may find a lack of a surround sound feeling. Of course, this is purely a matter of personal preference.
The passive noise isolation is very good with the silicone ear tips and is enhanced when using Comply foam tips. The venting pinhole is strategically positioned facing in on the angled side of the shell, so it's not obstructed. At the same time, it doesn't leak sound or introduce outside noise.
Pros
Excellent Balance in sound
Very light weight
Small listener fatigue
Cons
The Beyerdynamic DT-990 is a professional, acoustically open headphone for monitor and studio use. It has 250 Ohms and a single-sided coiled cable to offer a carefully balanced and natural sound.
The reduced weight of the diaphragm combined with adjustable, sliding earpieces ensures listening comfort during extended periods of use.
Sound
The sound is very even across the board and gives the impression that you are immersed in whatever you are . The quality even allows you to pinpoint exactly where the sound is coming from.
However, the treble is a bit too powerful with this model. This may cause some listener fatigue if used at a high volume, especially for extended periods of time.
In addition to the listener fatigue, the sound will leak due to the semi-open driver backs of the cans. Although the sound may leak, this feature utilizes the size of the cans in order to create a full surround sound experience.
The Beyerdynamic DT 990 works well enough without the purchase of an amp, providing a range of vibrancy and color. Nevertheless, an amp will absolutely enhance all of the product's positive features.
Bass
The bass on this model is pronounced but not overbearing. It is balanced well and continues to work with the treble to continue to offer a spacious soundstage experience. Nothing too impressive, but just right for those that like a nice even mix in their audio.
Again, pairing this model with an amp will truly allow all of the power of the bass to sound out. An amp will especially be advantageous if you are primarily using this product in a small, enclosed room.
Keep in mind that the treble on this model is quite powerful, and an added amount of bass might increase the amount of listener fatigue.
Design
They Beyerdynamic DT-990s have soft, velour ear pads and adjustable earpieces making them incredibly comfortable on the ears for extended periods of time.
The extremely lightweight diaphragm also helps to diminish the overall amount of listener fatigue. They have a long, sturdy cable which is a plus if you are using a monitor, although it does not allow for a wireless option.
Even though the cans are plastic, it is a very strong plastic that's carefully cut and molded in shape. You could probably stomp on them and they would still survive.
There is a very substantial aluminum "fork" that connects the cans to a steel headband structure that allows for quite a bit of flexibility so that you can obtain a precise fit.
Although, initially the frame will be very stiff before you break them in. Thankfully, since the headband is made of a high-quality spring steel, you can adapt the headphones perfectly to your head after a few weeks of using them.
Pros
Carefully balanced sound and bass
Comparable surround sound
Very Comfortable
Cons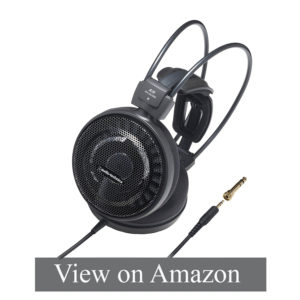 The Audio Technica ATH is composed of a lightweight honeycomb aluminum casing with a sturdy single-sided cord. It is made to reproduce clear treble and mid-range sounds.
These open-air headphones boast a dynamic design in order to provide amazing comfort for an extended, natural listening experience.
Sound
The mids and highs sound clear and crisp allowing you to pinpoint exactly where the sound is coming from. There is also a sense of clarity that allows you to hear everything in the audio.
Coupling this model with an amp will definitely enhance the listening experience. In terms of frequency response, these headphones are tuned to emphasize the lows and the highs.
As they are open-backs, they will leak noise. This means that the lows can get lost and . However, in return for some of the lost sound, this model provides a substantial soundstage because of its build. This is a very important feature for those that plan on using them for longer sessions and want to reduce listener fatigue.
Bass
The bass of the Technica ATH is not overwhelming, which is good for those who do not like an overabundance of that deep and powerful sound. You can definitely feel the bass even when listening in the low volume settings as well.
Again, because of the nature of the open back, some of the bass will get lost. If continuously driving bass is what you crave, this model is a just a bit lacking in that area.
However, if you want to add a bit more "oomph," an amp will definitely enhance the experience; especially if you are in a smaller room.
Design
Perhaps the Audio Technica ATH is not the most aesthetically pleasing, but it does have a very sturdy design. The open air feature produces no sense of pressure on the ears, making it possible for comfortable, long listening sessions.
This also reduces the heat of the cans when they are being used for several hours at a time, making them excellent for gaming and for producing music.
The design also ensures that the sound is not directly isolated to just your ears. This again is a matter of personal preference, as some people don't like that others around them might be able to hear what they are listening to.
On the other hand, the benefit to this model is that sound is allowed to travel outward and freely, creating a rich surround sound experience.
The wire on this model is a bit springy and annoyingly curly, which may be a pet-peeve for some. But the cord isneutral brightlong enough that it won't interfere with usage.
Pros
Crisp, balanced sound
No pressure on the ears
Cons
Not aesthetically pleasing
Lack of bass
Common Questions About Audiophile Headphones
What is Audio (Sound) Quality in Audiophile Headphones?
Audio quality is, basically, a degree of accuracy in which a particular model of headphones reflects original sound.
Thus, the best audiophile headphones are the ones that represent the closest copy of the audio recorded by sound engineers.
Basic Facts About Audiophile Headphones
First and foremost, you can't judge the sound quality of a particular pair of headphones just by looking at specs. You need to listen to different audio files and, desirably, with different emitting devices.
Secondly, sound quality depends on more than just headphones. All components should work properly for the best sound quality. A song should be recorded by professionals, your phone/computer should be of good quality, etc.
Thirdly, people often talk about the sound quality just in terms of frequency response which is, actually, not a good idea. The widest frequency in the world is not a synonym of the best sounding headphones.
Fourthly, the sound quality is a rather subjective thing, and even respectful audiophiles have their own preferences.
Lastly, the best sounding headphones cannot be cheap. Normal prices for the best audiophile headphones models run about $300-350. There are also some models of headphones with great sound in the $200-300 range, but they usually can't be called "audiophile".
However, there are some basic things you need to care about in terms of getting the best sounding headphones and I will share my thoughts about them below.
How to Determine Sound Quality in Audiophile Headphones
So, what do you need to care about looking for in a pair of great sounding headphones?
Frequency Response: 20Hz-20kHz
Frequency response is the range of bass, mids, and treble.
Yes, I have just said that frequency response is not the Holy Grail of best sounds. However, it still matters and you need the frequency range to be as wide as possible.
The human ear can catch sounds in the range between 20Hz and 20kHz and anything out of this range does not make the sound any better on audiophile headphones. Higher or lower frequencies could be useful, perhaps, if you were a whale or a mouse. 🙂
Impedance: Above 25 ohms
Impedance is a rather complex technical term, so I will give you a rule of thumb for better sound: headphones with higher impedance (above 25 ohms) can be used with a wider range of audio equipment than headphones with low impedance and, as a result, tend to provide better sound.
The majority of headphones are low impedance ones (under 25 ohms) because higher impedance requires more power. Great audiophile headphones always have a higher impedance.
The Size and Number of Drivers
Drivers are units that produce sound in headphones.
Huge drivers mean more powerful output but not always better sound. I would not recommend paying a lot of attention to the size of drivers.
Some modern models of audiophile headphones have two or even three drivers for different frequency ranges (usually one for bass, and one more for mids/highs).
Soundstage
Basically, soundstage means a sense of space produced by headphones, and their ability to give a listener the possibility to imagine the position of all musicians and musical instruments around the scene where a track was recorded.
This term is rather abstract, but truly great sounding audiophile headphones usually provide a really wide soundstage. You cannot measure it in some specific metrics, but I recommend paying attention to this point in other people's recommendations and reviews to get really the best headphones for audiophiles.
Final Thoughts
With a precise balance of sound and a wonderful amount of bass, the Sennheiser HD 600s is one of the best headphones on the market. It is well rounded in terms of its light-weight design, which does not hinder its sound quality in the slightest.
It is easy to transport, incredibly comfortable and has a very reduced amount of listener fatigue.
If you are looking for a neutral bright tonality, a balanced sound signature, and an intricate soundstage, look no further than the Sennheiser HD 600. They are the best audiophile headphones for everyone.