(Last Updated On: December 21, 2017)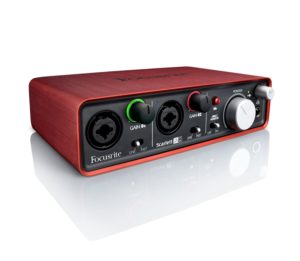 What is the best audio interface under $200?
Computers have become a way of life for most people and there's a big reason for that: convenience. Especially in 2017 and beyond, there's so much you can do on a computer — you basically don't need anything else.
That concept applies in the world of audio, especially for those interested in the various modes of online communication such as podcast, audio books, music recording, and videos. For great audio quality, all you have to do is hook up to a computer and the world is basically at your fingertips.
And even if you're not into production, videos or audio editing, having a good audio interface and microphone can make a world of a difference for those who enjoy communicating via channels like skype or google hangouts.
That's what makes the audio interface key. It's the connector between your microphone, computer and rest of the world — so having a good one is vital. As long as you're not recording and producing the next great rock band of your era, you probably don't need major studio-quality equipment.
With that said, you can still get major studio quality sound from some relatively cheap options, so that's where this buying guide comes into play.
We're setting out to find the best audio interface under 200 dollars. Join us, and we'll let you know exactly what to purchase and why.
Top 5 Best Audio Interfaces Under $200: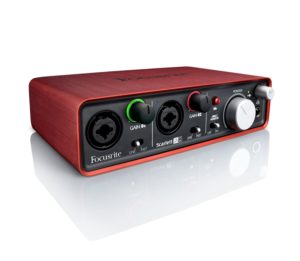 The Scarlett is a very nice looking interface that is easy to install, set up and use right away. You don't need to be a mixing or recording mastermind to use it, so it's good audio interface to get for beginners – especially if you don't want to spend a ton of money.
This interface does a really nice job of transferring the audio quality you're looking for.
The cool thing about purchasing the Scarlett is that you do get access to its Plugin Suite, the Red 2 & Red 3 Plug-in Suite, The Softube Time and Tone Bundle, the Novation Bass Station and you'll get 1GB of Loopmasters samples. Basically, you'll have everything you'll need to get recording and producing.
It's a quiet and simple yet powerful device that will provide you with the warm tones you're looking for.
Pros
Metal Unibody Case
USB audio interface
Combo Jack which allows for XLR and 1/4" inch connection
Includes access to software
Cons
May require USB hub to power
May not be compatible will all software
Connectivity issues seem common
Not for high-quality, studio grade mixing
Steinberg UR22 – Perfect USB Audio Interface for Mobile Musicians

The UR22 is a great audio interface for those looking for more than just a connection between their mic and their computer. It gives the user a bit more control once the drivers are set up and it's a very high-quality machine. It doesn't look like much, but it is a piece of professional equipment.
Though the pre-amps can be a bit sensitive depending on how much and what you're pumping through, they provide solid gain and the unit always seems to find a good signal and a clear, crisp sound — especially for vocals.
You can track just about any instrument on the UR22 and it does come with free software – which is a nice bonus.
Pros
Two D-PRE microphone preamps / 2-in/2-out device.
24-bit/192 kHz converters
Phantom Power
Pad Switches
Master volume knob
Onboard dspMixFx technology
Cons
Sensitive pre-amps
Mac users must download driver to use
Not compatible with iPad or mobile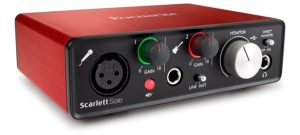 The Focusrite Scarlett Solo is going to look as good as it sounds. It's small and compact, perfect for the traveling musician or producer, and it comes in a sharp scarlet color.
It's only a 2 in / 2 out, so you won't be able to use it to record a ton of sounds at once, but on a small-scale basis — you get a ton for the price. That's not even mentioning the software and plug-ins that come along with it. You get First & Ableton Live Lite recording software, Focusrite Control, and a Tone Bundle among other things.
If you're looking to improve your microphone sound, this is the perfect unit for you. Even with instruments, though, the Scarlett Solo can handle a lot, and it will provide crisp and studio-quality sound.
Pros
Conversion and sample rates up to 192kHz / 24 bit
Instrument input with strong capability
Stereo line outputs for home speakers
Headphone output
Includes multiple plugins/software
Mac and PC compatible
Cons
Headphone requires 1/4" jack/adapter likely needed
Short USB cable
Only one mic input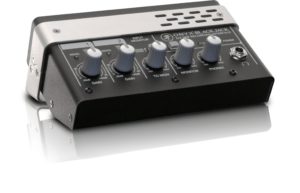 Checking in at just under a 100 dollars, you're going to get a lot of bang for your buck with the Onyx Blackjack. It's compact and small, so it's not going to take up a ton of room, but it provides great audio quality and versatility.
The nice thing about it is that it can be plug-and-play both on Mac or PC because it doesn't require drivers to work.
With two inputs, phantom power and the ability to control your headphones, this is a great interface for podcasters or anybody working with a limited amount of space. The USB connection to your computer also powers the unit, which is a nice perk because you won't need another cable to run it.
This unit has AD/DA converters and DI's and analog hardware that allows you to easily control the inputs. You can also use it in mono or stereo.
Pros
Two mic preamps
Tracktion 3™ Music Production Software included
Cirrus Logic® AD/DA converters with 114dB dynamic range
Mac or PC compatible
Plug and play
Cons
Playback can glitch
Unpredictable compatibility with drivers depending on what you are using
Only two inputs
Behringer Xenyx – Best Budget USB Audio Interface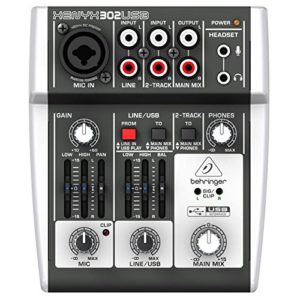 For the price, you're getting a ton of control out of the Behringer Xenyx. The XLR & ¼ inch combination input can be a bit tricky to figure out, but it is a pretty cool feature — though you'll only be able to use one or the other.
It's plug-and-play and has phantom power. It's also powered on by the USB that connects to your computer, so you'll easily be able to control just about everything right by your laptop or desktop.
This unit doesn't have a ton of power to it, but you'll be able to control and EQ your sound and it also has a 2-track channel, which is unique to this list.
This is a low power, low-end device. You'll be able to get solid quality out of it — especially with all the controls and inputs — but it doesn't pack a ton of juice or punch.
Pros
Small analog mixer with USB/Audio interface
Phantom powered XENYX Mic Preamp
Very good price for what you're getting
Built in EQ
5-Input Mixer
XLR & ¼ inch combination input
Dedicated 2-Track input.
Comes with software needed to record and produce
Cons
Only 1 Mic-in/1'4" input
One power setting (15v).
Has a hard time to handle max input without hiss
How to Choose the Best Audio Interface Under $200
What is a Good Audio Interface?
These are simple questions, but they can make a world of a difference for the average audio interface buyer. Not every interface is made the same and not every consumer has the same needs. Use these basic questions to point you in the right direction.
How Many Inputs?
The idea of the audio input is simple. How many inputs are you going to be able to send into your audio interface and how many can it handle?
The answer to this question varies depending on model and price. Smaller interfaces may have one or two inputs and they're specifically designed for microphones.
Those smaller, simpler audio interfaces are good for people who may just want to hook up a microphone for speaking or singing. It's simple, but the need is simple — you just want your voice to go from the mic and into the computer.
Other interfaces will have more channels, which means you'll be able to accommodate more inputs. Perhaps there will be a line-in or two for a guitar or bass connecting in via a quarter-inch cable, and maybe there will be more than two XLR mic inputs, which gives you more options as the user.
Basically, step one for determining what audio interface to get is knowing why you need an audio interface in the first place. A podcaster is going to need a different interface compared to a garage band.
Phantom Power?
If you have the need or desire to use a condenser microphone through your interface, the ability to turn on phantom power (+48V) is crucial. The mic won't work without it. This is a feature that not every interface may have, but it's an important feature to know about.
In order to turn on and charge the electrically charged plate that allows a condenser microphone to, well, condense…your interface will need to have phantom power, which basically sends the correct power (+48V) to that plate and allows the mic to work.
Not having phantom power isn't a big deal if you just plan on using dynamic microphones, but if you need a condenser mic for any reason, having that (+48V) power is key. Make sure your interface has it.
Computer Compatibility
Perhaps this is the simplest point of them all, but it's obviously important, right? The whole point of the audio interface is to connect sound to your computer so that your computer can recognize it.
But how does it connect, and is that compatible with your computer? USB connections are pretty common with audio interfaces, but there are other, faster options as well.
Thunderbolt and Firewire bring high speed and quality to the data transfer, but perhaps not every computer or interface is equipped to connect with those.
Also consider this: Does your interface work with Mac and PC, or just one or the other? It would be silly to buy an interface that only works on PC if you have a Mac, and vice-versa.
Mixing Capability
If you're a simple one-mic podcaster maybe you don't care about the ability to mix the channels in order to get the proper tones and levels that you're looking for.
If you're in a band or are putting together music, though, this can be a huge part of the recording process.
Some audio interfaces give you the ability to mix on the hardware, so you have much more control of the sound once it gets to the recording program. Others are too small and simple, so again, you have to know what you want and what you're looking for.
The more control you want over your sound, the bigger and more elaborate the interface will be. Having a mixer interface is certainly an option, but it's not for everyone.
The Takeaway
Just like with anything, there are different audio interfaces that work best for different needs.
Some are a bit more heavy-duty and require more heavy lifting. Others are simple, but give the user the ability to record themselves in a variety of different ways. At this range, you won't get much control from the hardware itself, but that's what the drivers and software are for.
As far as finding the best audio interface for under 200 dollars, our money would go to the Mackie Onyx Blackjack. It's just under 100 dollars, so it's well below budget, but it provides you everything you need in a solid audio interface.
It's compact, works with Mac or PC, is connected and powered by the USB and it's plug-and-play ready. For the price, that's just about all you can ask for out of an audio interface, and there's software included, so if you pick one of these up you'll be well on your way towards recording and producing in no time.
It truly is the best audio interface for under $200.