(Last Updated On: December 21, 2017)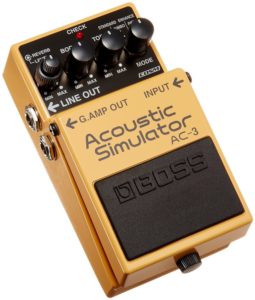 Electric guitars are fantastic instruments.
Am I right? Of course! But what if, like me, you're also partial to the clean, bright tones of the acoustic, too?
With all the gear you have to bring with you to a gig, a second guitar is a hassle you don't need.
The solution? An acoustic simulator pedal.

Top 5 Best Acoustic Simulator Pedals: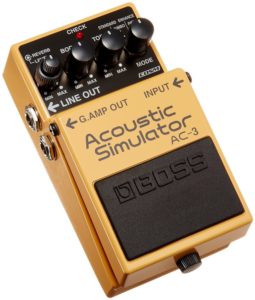 The AC-3 is an industry-wide favorite due to its reliable and noise/interference-free performance and durable design.
Using advanced algorithms, the Boss AC-3 generates a deep and warm tone which will remind you of the famous Gibson guitars of the 1930s.
Sound
COSM acoustic modeling technology gives the AC-3 greater precision when simulating the acoustic sound, giving you the most authentic reproduction possible. Aside from having an actual acoustic guitar, of course.
There are four simulation modes available: standard, jumbo, enhanced, and piezo.
One upgrade the AC-3 has over the AC-2 is added reverb control. You'll find body, top and reverb controls on the AC-3, allowing you to fine tune your tone to match your specific needs.
The pedal also has multiple outputs, giving you the option to use the pedal as a bypass of your other FX when you're simulating an acoustic tone. This is perfect for making on-the-fly switches during a show.
Pros
Multiple outs allow quick switching of effects
Durable metal casing
Standard, jumbo, piezo and enhanced mode
Reverb, body and top controls allow for fine tuning
Cons
Low hiss generated when turned up really loud on the amplifier
Same sound and tone as the AC-2. The only upgrade is the added reverb.
More expensive than other, similar spec acoustic simulator pedals
Conclusion
The Boss AC-3 is a great pedal for the price. You're getting a quality piece of equipment from a reputable manufacturer.
It's suitable for almost any situation, ranging from church choirs to rock concerts. The added reverb control from the previous model is a welcome addition.
Mooer MAC1 Acoustic Simulator Pedal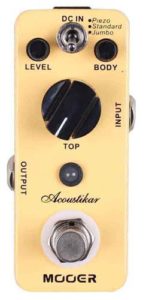 Mooer is widely regarded as the kings of the micro-pedal market. The MAC1 is compact, light and portable, packing a surprising amount of hardware in a durable metal shell.
Sound
There's a lot jammed into this little device. Three simulation modes – standard, jumbo and piezo –means you can experiment with some cool, distinct sounds.
Switching between the modes you'll be able to enjoy the low, boomy sound of a dreadnaught to the bright, twangy sound of an electrified shallow body.
The MAC1 offers all the fine tuning capabilities of the larger pedals. There are "body" and "top" controls, which essentially act as EQs for the low-end and high-end frequencies.
On top of that, you have the style switch, letting you quickly switch between the simulation modes mentioned above. The volume knob is, well, a volume knob.
It is very sensitive, however, so keep in mind that small increases can cause large volume changes. Utilizing all these knobs will let you seek out that perfect acoustic simulation for your setup.
Pros
Very affordable
Simple controls make it very beginner friendly
Considering the size, it produces incredible quality sound
Compact and lightweight makes transport effortless
Three modes – standard, jumbo and piezo
Cons
No reverb control
Can produce a slightly tinny noise at high volume
If you have a bigger budget, there are better options available
Conclusion
The MAC1 has a market-leading acoustic sound simulation pedal, especially considering its size.
Durable enough and squeezed into a compact, affordable package, this acoustic simulation pedal is perfect for the gigging guitar player.
Joyo JF-323 Acoustic Simulator Pedal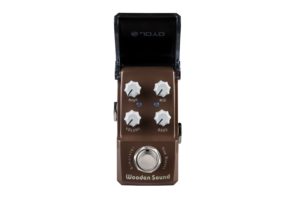 While the retro-looking wooden design won't appeal to everybody, the number of features packed into this compact acoustic simulator pedal certainly will.
Sound
It's funky and retro with a wooden style body to match its wooden sound. Wooden, in this case, is a good thing.
It won't be everybody's cup of tea, that's for sure, but with so many fine tuning options you may be able to cope with the design.
Something a little more unique to the Joyo, there's a cover you can flip down while playing to protect the buttons from any accidental foot action.
Unlike the other acoustic simulator pedals on this list, the Joyo-JF323 only has a single simulation mode. At first, this might seem like a downside. However, the Joyo provides not two, but three dials to dial in the tone.
You've got a dedicated high, mid and bass frequencies that allow you greater control over the tone of your guitar when compared to some of the other pedals who only offer a high and mid-frequency dial.
With the Joyo you'll be able to add bright, sharp tones as well as deep, moody tones to your performance. Where the JF-323 excels is on strumming lines, it actually sounds more like an authentic acoustic than any pedal on this list in this area.
Pros
Flip cover protects dials from accidental setting changes
Wooden sound causes less hissing and interference
Compact, easy to throw in a backpack and set up with the rest of your pedals
More EQ settings than other pedals gives you complete control over the tone
Cons
Not so durable, big knocks can affect performance
Single mode of simulation (offset by more EQ options)
Conclusion
With more EQ options than most other acoustic simulator pedals, the Joyo-323 will give any guitarist complete control over their desired sound, letting you easily dial in your tone for that authentic acoustic reproduction.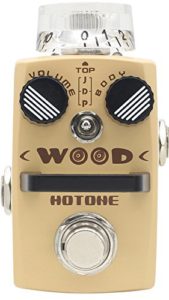 This is a heavy duty acoustic simulation pedal that'll be able to withstand the knocks and bangs that come with taking it to and from performances thanks to the heavy duty zinc alloy casing.
The vintage style design will appeal to those looking for something to add character to their rig.
Sound
The circuitry inside the TPSWOOD is designed to reproduce the authentic sound of a classical, wooden guitar. You'll be able to enjoy soft, bright tones which will suit church performances and processions etc.
There's a wide array of natural sounding acoustic tones you can get from the TPSWOOD. Three-way toggles give you the option to switch between the jumbo, dreadnought and piezo modes, with top and body EQ knobs to allow for further fine tuning.
The adjustability options mean that it'll be able to take any model of electric guitar and turn it into a realistic sounding acoustic at the push of a button.
During testing, we experienced no noticeable hum when we connected the TPSWOOD to an amp or used it in conjunction with other pedals.
Pros
Cool, vintage design
Very compact
No noise or hum when plugged into an amp or used with other pedals
Heavy duty zinc allow protects the delicate circuitry inside
Three simulation modes – jumbo, dreadnought and piezo
Cons
Maybe too compact for some users, measuring at 2.5 x 2.8 x 4.2 inches
Conclusion
This heavy duty yet compact acoustic simulator pedal will allow you to bring those sparkly, bright tones of a classic wooden guitar with you to your performance without having to bring along a cumbersome second guitar.
Aroma AAS-3 Acoustic Simulator Pedal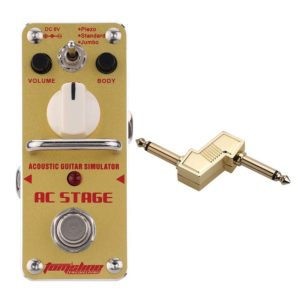 This small, affordable acoustic pedal doesn't have the same reputation or popularity as some of the bigger names in this list, although it gets the job done extremely well considering it only costs half as much as the other pedals.
It isn't made with the same level of vintage style as the Joyo or TPSWOOD, but it does look retro.
Sound
It has all the modes you'd expect from a good acoustic simulator pedal. You'll find a toggle to switch between standard, jumbo and piezo so you can get a bright or mellow, warmer sound, depending on what you need for your performance.
A top and body control knob lets you further fine-tune the treble and mid-level frequencies for a little more tonal freedom.
You won't get the same acoustic authenticity as with some higher priced pedals, but when you consider that this pedal costs around $35-40, you can't ask for much more.
Coupled with the built-in true bypass and a little tweaking from the body and top controls, you'll be blown away with the sound this affordable little pedal can make.
Pros
Very affordable
Robust metal casing gives the AAS-3 impressive durability
For the price, you get excellent acoustic sound reproduction which can't be beaten
Three simulation modes
The top/body/volume control knobs are all accurate and pleasantly sensitive
Cons
By spending an extra $30 you'll be able to get a much better sound
Conclusion
While I wouldn't recommend this for professionals or frequent performers, it's more than adequate for hobbyists and even small stages at local venues.
If you're looking for that acoustic sound without having to pay over the odds for a new guitar or high-spec simulator pedal, the AAS-3 is a perfect addition to your pedalboard.
How to Pick the Best Acoustic Simulator Pedal
A good acoustic simulator pedal will allow you to experiment with the acoustic guitar sound, switching between tones on the fly, without having to bring a second instrument.
There are a couple of things you'll want to know when purchasing a new acoustic simulator pedal.
Simulator Type
There are three main types of simulator modes: standard, jumbo, and piezoelectric.
The standard simulators are designed to simulate the sound of a typical acoustic guitar.
The cheaper models do so with a rather average – even underwhelming – tonal response and are best limited to just one or two music sections.
The jumbo mode is designed to simulate a Jumbo or Super Jumbo acoustic guitar. The jumbos are characterized by having a broader sound and deeper base on account of their larger bodies than the standard acoustic guitars.
Finally, we have the piezoelectric pickups. These are the most expensive type of the lot. Rather than being a pedal which sits on the floor, these are designed to be attached to your electric guitar.
They have piezoelectric transducers (hence the name) integrated into their body, these pick up vibrations from your guitar strings and convert them into electrical signals.
As they pick up direct contact pressure and not air vibrations or magnetic fields, you won't experience any external noise or interference messing with your jam.
Tonal Variation
Each pedal has different tonal variation abilities which basically determine the kind of sound you'll be able to get out of a pedal. This, of course, depends on what kind of acoustic guitar sound you're looking for.
I tend to look for models with several EQ options to allow fine tuning unless you're going to be modifying the EQ with a mixer or an amp.
If you need reverb control, it's a good idea to try and find a model with a dedicated pedal that lets you modify the reverb to give you a brighter, more natural acoustic sound.
Older acoustic simulation pedal earned a poor reputation as they sounded flat and tinny. Luckily, we live in a world of quickly advancing technologies.
More recent models have made huge leaps towards reproducing authentic acoustic sounds and we're about to show you five of our favorite acoustic simulator pedals on the market today.
So, Which is The Best Acoustic Simulator Pedal?
It's tough to say without knowing your existing setup. You want to find a pedal that has the features to suit your needs, without paying too much for something which is unnecessary.
The COSM modeling technology offered by the Boss AC-3 will give you the most authentic acoustic sound and will work perfectly if you need quick switching between acoustic and electric tones. It won't work properly unless you utilize both outputs, though.
Prefer a single-out setup? The Mooer and Joyo will be more suited to you.
Ask yourself if you really need the full range of EQ options available offered on a pedal like the Joyo. You may not need it if you prefer to use the EQ options at the amp level.
Features like reverb control, again, may not be necessary if you already have another pedal to control reverb. It's important to tailor your purchase to your existing equipment.If you had to force me to choose one, I'd pick the
If you had to force me to choose one, I'd pick the Boss AC-3. Utilizing the COSM modeling technology, it gives you the most authentic acoustic sound reproduction by far.