(Last Updated On: December 21, 2017)

Finding an acoustic guitar that plays well and is affordable can be difficult, with the average acoustic guitar aimed intermediate to advanced players ranging from the mid hundreds to low thousands.
Most sub-$100 guitars made for quantity rather than quality, expecting an affordable guitar to play well seems unlikely.
However, there are models out there that can surpass expectations without surpassing your budget.
We've put together a list of the 5 best acoustic guitars under $100 to guide you through the vast expanse of options there are out there.
Top 5 Best Acoustic Guitars Under $100:
Jasmine S34C – Best Budget Acoustic Guitar (Editor's Choice)

The first guitar we're looking at prices at between $80-$100 on most online retailers.
Built solidly with a sapele back and siding, rosewood fingerboard, laminate spruce top, and a natural finish, this dreadnought-style full-sized guitar lacks any glaringly poor design features.
From a neck that you can slide on easily to well-sized and even frets, your fingers don't face any barriers to moving comfortably while you play.
There is a cutaway in the body to allow access to higher frets, which is a big plus if you play on higher frets frequently.
Unlike a lot of cheap guitars, the pegs on the Jasmine S34C do a good job of staying put, rather than slipping out of tune.
This spares your strings from potential damage caused by frequent tightening and loosening – you can play without worrying about going out of tune in the middle of a performance.
The sound this guitar makes is of a much higher quality than the price would suggest. It has some very minor tinniness, but it doesn't rattle and it resonates quite nicely. Lower notes sound better than higher notes, but it plays quite clearly in all ranges.
Pros
Strong, reliable build from body to tuning pegs
Little to no buzzing or rattling
Good action and comfortable play
Cons
Comes with low-quality strings that need replacing
Both fun to play and enjoyable to listen to, this is our winning pick – as a guitar, this one is not just good for the price; it's simply a good guitar.

This guitar is not a guitar – not in the traditional sense. This is a mini-guitar, designed to play like a six-string baritone ukulele.
Ranging from $90-$100 online, anyone buying this instrument should not go in expecting to use this interchangeable with a traditional guitar.
Built with meranti back and sides, rosewood fingerboard, and a spruce top, this compact guitar is comfortable to hold and enjoyable to play, especially if you like the sound of a ukulele.
It does have some problems with volume – expected given its small size.
However, there isn't any reverberation or rattling, and it sounds fun. The sweet, softer tones of a baritone ukulele, with the added benefit of being able to play with the same six-string action you expect from a guitar.
This "guitalele" has trouble keeping the pegs from sliding out of tune, as most small guitars do. The neck is thinner than a traditional travel guitar, which is good if you have small hands but can be a hindrance if your hands are on the bigger side.
Pros
Small, travel-friendly size
Fun to play
Cons
Needs frequent retuning
Small fretboard can be hard to maneuver
This instrument can be a fun addition to your collection, but it is not a traditional guitar and is tuned differently. While enjoyable, the price is just about accurate for what you're getting – not a rip-off, but not really a steal either.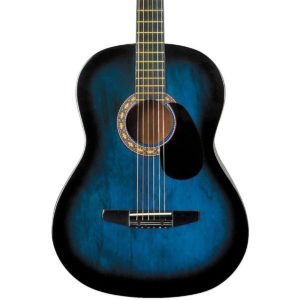 The Rogue starter guitar is both advertised and designed for beginning guitar players. Somewhere between a full-size and a ¾-sized guitar, this comes priced between $50 and $70 – very affordable.
This is decently cheaper than all the other guitars on this list. While made with a lower quality wood than the other guitars, the neck is made out of maple and the fretboard of rosewood, with a mahogany back.
Keeping its smaller size in mind, it plays relatively comfortably. The pegs do slip out frequently and require retuning, but this goes away with time and proper care.
It sounds pleasant when playing in low to moderate-level volumes, but at high volumes, it sounds more distorted and develops some issues with buzzing.
Some have described the sound as being flat – a product of the more budget-friendly woods made to construct the body. This guitar isn't meant for performances – it's perfect for at-home, private performances or student players.
The guitar also has a high action, which might cause some discomfort with extended playing, but it's a minor adjustment to make.
Pros
Cheapest guitar on the list
Smaller size suitable for smaller hands
Cons
Needs frequent retuning
Not built quite as solid
Sound is not high quality
The Rogue starter guitar is exactly what it says it is – a great guitar for student guitar players, who aren't ready to make a hefty investment but don't want the worst quality instrument on the market. For the price, there isn't much more you could ask for.
If you're looking for a beginner instrument before investing serious money into a guitar, the Hola! HG-41N is a solid option for anywhere from $80-$90.
Built with a spruce top, mahogany back and sides, and a rosewood fingerboard, it doesn't cheap out material to drop the price.
The action is at a comfortably low level, the pegs have fewer problems with staying in place than other similarly-priced guitars, and it comes pre-strung with some pretty good quality steel strings.
There are some problems with the setup. The bridge has a tendency to lean and shift around if you don't glue it down – but the guitar plays quite nicely.
It has a clear, mellow tone that carries well and doesn't buzz at all – it's especially good in the lower registers.
This guitar is playable out of the box and is cheap enough that you would feel comfortable practicing some DIY guitar repairs on some of the smaller fixes, like adjusting the action if it's too low for you.
Pros
Good, mellow, clear sound quality
Comfortable to play
Cons
The bridge has a tendency to give when applying tension
This is our solid runner-up choice for a sub-$100 guitar. You should feel secure if you make the decision to buy this one that you definitely got your money's worth.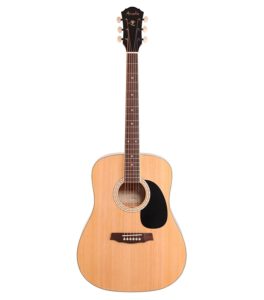 The Arcadia DL41 is a great instrument to play and hear. At $75-$100, it plays like it costs double. It's got a laminate spruce top, linden back and siding, and a rosewood fingerboard.
The design features reinforced internal bracing which makes this a strong guitar and also means it plays with significant volume, even with the soft linden. It is especially responsive to fingerpicking.
There is some discomfort in the height of the frets – some of them vary in height a small amount, and the action is somewhat high.
You might want to take it to a luthier or get yourself a fret filer to make it more comfortable, as it can get uncomfortable to play if left alone.
It is lightweight and responsive, clear and sweet-sounding. It stays tuned so you don't have to concern yourself with re-tuning frequently or stopping yourself during a performance.
Pros
Ideal for finger picking
Strong volume
Cons
High action
Variation in fret heights gets uncomfortable
This guitar sounds how you want a good guitar to sound – responsive and melodic, you wouldn't be making a bad decision by choosing this one.
However, some manufacturing problems could sway you towards a different model if you're not interested in spending time fixing it.
Buyer's Guide: How to Choose the Best Acoustic Guitar Under $100
Materials
Guitars will be made with different sorts of materials from the top (or "face"), the siding and the backing, to the neck material and the fretboard.
Different woods produce different sounds – if you plan on finger picking rather than playing with a guitar pick, for example, would choose a wood that responds better to quiet, specific notes.
While nowhere near exhaustive, the following includes a number of frequently used woods for lower-priced guitars.
Spruce: commonly used for tops; highly rigid and lightweight, it carries high sound velocity and supports direct, clear tone even when playing forcefully.
Cedar: soft wood, preferred for its warm tones; cedar is more responsive to fingerpicking than many other types of wood.
Mahogany: very sturdy, dense, and "punchy"; because it has a slow response, it's better for strumming – popular in country and blues.
Maple: dense wood, not frequently used by itself, but mixed in with different woods; it provides clarity when used as part of a laminate, and is most frequently found as a siding or backing.
Rosewood: heavy with a quick response; favored for its complex, rich sounds at all ranges, rosewood is a very popular option for fingerboards and necks. Not often used for the entire body.
Body Styles
The shape of the body of the guitar will help determine the kind of sound you'll be able to make as well as whether or not you'll be able to play the guitar comfortably.
When shopping for an acoustic guitar you should spend some time holding it in playing position and noting how comfortable – or uncomfortable – the shape of the guitar feels.
Concert/Grand Concert: the traditional, symmetrical shape for acoustic guitars – the concert is better than the grand concert for smaller players; does a good job in the middle range and projects well.
Auditorium/Grand Auditorium: also referred to as "orchestra"; more treble than the similarly-sized dreadnought, but a narrower waist promotes a better treble.
Dreadnought: popular body style that boasts a large soundboard, making it "punchy" and loud; popular in blues, and ideal for performers.
Jumbo: this large body projects quite loudly, and plays deeply quite well; good for performances, and gives an additional boost to quieter methods of playing like finger picking.
Neck Width and Strings
Wider neck guitars, often seen in classical guitar, allow for more space between the strings which helps if you have trouble with "fat-fingering" them.
These are obviously ideal for those with bigger hands. Guitars with narrower necks are better for those with smaller hands and fingers. Make sure to hold the neck before you consider buying one.
Another consideration is what kind of strings your guitar has. While strings are, in fact, interchangeable, some guitars are better suited for nylon and some are better for steel strings.
Classical guitars, with wider necks, often come equipped with nylon strings. Nylon strings more subdued, quieter, and are used in classical guitar, as well as folk and flamenco, most commonly.
Steel strings might be harder for beginners to play, as they tend to need some getting used-to. You'll definitely need to build up calluses before you can play without any pain.
Steel strings are often brighter and louder, more common in rock and country – genres where volume is king.
Other Key Features
The action of a guitar refers to the space between the strings and the fretboard. If the strings are too high, it'll take a considerable amount of pressure to press the string. This can make playing both painful and exhausting.
If it's too low, it can catch on other strings and make a terrible buzzing noise. Actions that are too high or too low can be modified, but if you're looking to save money and time try to find a guitar that fits your needs upfront.
Consider the intonation of a guitar – when you play on the lower frets, it may sound fantastic, but does it get more out of tune the further up the fretboard you play?
This is likely a bad guitar, no matter the price – good intonation is vital to playing anything seriously. This is also much more difficult, if not downright impossible, to fix, so you want to make sure the intonation is good before you buy it.
Make sure the bridge is solidly placed. The bridge is the wooden part of the body of the guitar that lifts the strings up above the top; if it is not glued in place properly, it will shift around, affecting both the sound and quality of your playing.
A professional can adjust it and you can learn to adjust it yourself as well, but it's much easier to buy it glued in the proper place.
Final Thoughts
There can be some really great guitars out there for affordable prices – good tone woods, great playability, and beautiful sounds that play exactly how you want them to.
This list of the 5 best acoustic guitars under $100 is designed with picky guitar players in mind.
Whether you're looking to play the blues, folk music, or some of the classics, there is a guitar out there for you. You don't have to break the bank to find it.