(Last Updated On: December 21, 2017)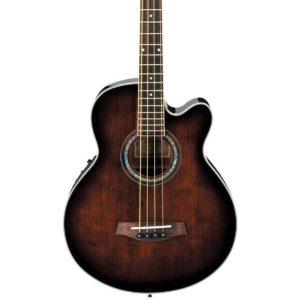 Are you looking for the best acoustic-electric bass guitar? You are in the right place.
We worked hard to present you this buying guide about the best acoustic-electric basses with all information needed for a smart and intelligent decision. Our team tried dozens of those basses to choose the best ones.
We also checked tons of articles, reviews, and specifications, talked with professional bassists to understand what really matters.

Top 5 Best Acoustic-Electric Bass Guitars: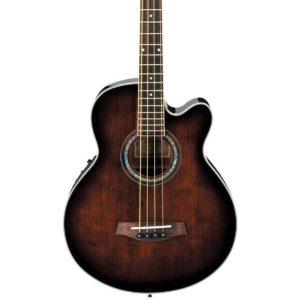 Ibanez has been making guitar instruments for many years and has gained popularity with its acoustic-electric products. The company has been in business for more than 100 years, beginning as a distributor of music products and sheet music in Japan in 1908.
The company got into the guitar business by importing Spanish guitars in the 1920s and 1930s. It focused on producing solid-body electrics of good quality in the 1980s and 1990s, becoming popular with metal players and others. Ibanez continues to enjoy popularity because it makes quality instruments available at attractive prices.
The AEB10E has a spruce top, with mahogany back, sides and neck. You get an on-board tuner, along with Fishman Sonicore pickup and SST preamp. The die-cast chrome tuners provide accurate tuning and pearl-dot inlays on the rosewood fretboard make finger location efficient. The Ibanez sound, without amplification, is quite good and the price is quite reasonable.
If you're looking for an instrument that looks very good, with above-average performance, this is probably a good choice for you. Intonation is good all along the neck, with playing comfort that compares to acoustic-electric basses costing a bit more.

Fender is one of the most recognized names in the musical-instrument industry. Millions of people are familiar with the name because of company founder Leo Fender. He was definitely one of the pioneers of electric guitar production. It's lower-priced instruments are imported into the United States, rather than being manufactured there.
The company offers a few different acoustic-electric bass products, including the CB-100CE, with laminated spruce top and laminated mahogany back and sides. Fender uses scalloped X bracing and includes Fishman Isys pickup with active, on-board tuner and pre-amp.
Mahogany neck construction follows the iconic Jazz Bass design and features a rosewood fingerboard. The bridge is rosewood as well. When you're looking for an affordable acoustic-electric bass, this should be a good choice, though you may have to make some set-up adjustments once it arrives. An experienced player should be able to help with this.

The shape of the CB-60SCE separates this bass from some of the others in its category, as Fender markets this one with a Concert Bass body shape.
The difference is in the cutaway that allows you to reach higher frets a bit easier, as well as in the slightly larger body size, which you may like for its slightly deeper sound. The top is solid spruce and the interior bracing is in the X design. Back and sides are mahogany.
This classic-design bass has Fishman Classic pickup and preamp, along with a slim, tapered neck design similar to all Fender Classic guitars. It should work fine for unplugged play in a smaller setting, and the electronics will deliver on stage or in studio. Offered in black finish as well as natural.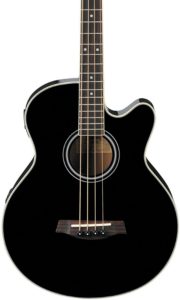 Another acoustic-electric bass from Ibanez, the AEB5EBK has a spruce top, mahogany neck, back and sides. The rosette design of the fingerboard is abalone.
This popular bass delivers a warm low end with a full sound, and adds Fishman Sonicore pickup, Shape Shifter preamp and onboard tuner. It has both ¼" and XLR outputs for added convenience.
This model produces a strong unplugged sound, which separates it from a few others in its price range. Playability is good, though you may want to add different strings for comfort. Ibanez continues to deliver good performance for an attractive price.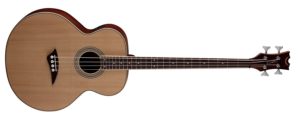 The Dean name comes from the company's founder, Dean Zelinsky. He started the business in 1976, with the company's products becoming much more popular in the late 1990s and beyond. Dean is now owned by Armadillo Enterprises, which purchased the business in 1997. Dean now has its headquarters in Tampa, Florida.
The Dean EAB comes in at a slightly lower price than others of similar construction, and it has the larger concert-style body. As with other acoustic-electrics reviewed, this one has a spruce top and mahogany sides/back. You get the Dean passive preamp, along with volume control and treble control. Tuners are Dean diecast. This is a solid beginner's acoustic-electric.
How to Select the Best Acoustic-Electric Bass
People have been playing acoustic instruments for a lot longer than they've been picking and strumming electric instruments, of course. For centuries, the bass register of music was provided by massive "stand-up" creations that resembled huge violins. Some cultures did have smaller bass instruments with deeper bodies that produced the required sound.
In the last century, creative individuals began to add electric/electronic units to these non-amplified instruments so the listener could hear the music. These additions (sometimes microphones) were similar to those added to six-string guitars. Most people now understand that electric basses quickly followed guitars, as music generally "went electric."
Hybrid
The creation known as an acoustic-electric bass guitar has gradually been refined, to the point at which it's now possible to purchase an instrument suitable for performance. The electronic units for amplification are now part of the package. Like the familiar, solid-body electric bass, these instruments have four strings, usually tuned an octave below the lower four strings of the six-string guitar (E, A, D, G).
Many of these instruments can be played without being connected to an amplifier, though the sound produced is rarely loud enough to be heard, even when performing with other acoustic instruments. The traditional Mexican bass, with six strings and a very deep body, produces a bit louder sound, though it's still played with a pick. The sound is usually too "soft" when only the fingers are used.
The acoustic-electric as it is known today was introduced in the 1950s by Kay. Other companies began producing these instruments in greater numbers in the 1970s and 1980s. Use became more common through the years, with several good choices available from several manufacturers. When an individual decides to shop for a bass of this type in the 21st century, budget is usually the deciding factor.
Buyer's Guide
Buying an acoustic bass is different from purchasing a six-string guitar, right?
Not necessarily. There are a few basic factors you should consider when buying any string instrument, no matter which part of the musical register you'll be playing in. When you start shopping for a guitar of any type, you should focus on string height from the fretboard and on overall construction.
The first factor, string height, will be the most important element (once you get past how the guitar looks). If you struggle to press the strings down to produce sound, you can lose interest quickly. If you set a budget range from the beginning, you'll have success in finding a suitable acoustic-electric bass. But, you should play one before making a final decision, if possible.
If you don't have access to a bass you can try, pay close attention to details and what these reviews say about various instruments. Suppose, for the moment, you can walk into a music store and try a couple of acoustic-electric basses. You see one you like, based on appearance. Take it in hand and press down one of the strings with your index finger. Pluck that string with the index finger on your other hand and listen to the loudness (volume) of the sound it produces.
Comfort and Sound
You've just tested the two major factors for purchasing an instrument that can be played without amplification. If you can press the string to the fret without much effort, and you can hear the note you've played, that's a good start. But, you should try another acoustic-electric bass, from another manufacturer, and compare the ease of play and the loudness. If one stands out above the other in both categories, you're on your way to a good purchase.
It's also important to know a bit more about the details of construction, such as the wood used for the top of the instrument. Most guitar makers (luthiers) consider the choice of wood for the top most important for producing quality sound. Spruce is most commonly used because it is both lightweight and durable, producing tone clarity. Other woods used include cedar and mahogany. The latter is often used for back and sides of the guitar.
It's also essential for an acoustic guitar or bass to have solid bracing inside the body, as well as quality frets and fretboard. These are details you should look more closely at as you hold the guitar and play it. As with any guitar or bass, you should also pay attention to how the tuning "keys" work. Are they smooth yet tight, which makes them accurate? Are there visible signs of poor craftsmanship where the body parts are joined or where the neck meets the body?
Body Design
Acoustic guitars have three general body shapes or styles – classic, dreadnought and jumbo. You'll also find some acoustic-electrics produced with a Concert-style body, slightly larger for more volume. This won't be a major concern for you, unless you decide to choose a jumbo body for deeper bass sound when playing without an amplifier. The two factors influencing cost will be country of origin and choice of wood.
Aside from the body design and construction, you should pay particular attention to the electronics used to produce sound when the bass is connected to an amplifier. Most of the affordable acoustic-electric basses have adequate electronics, some with on-board tone control (EQ) and tuners. Some less-expensive guitars use lamination rather than single-piece construction. This helps lower the cost of production and may affect the non-amplified tone.
Conclusion
As with six-string guitars, there are three major categories of bass: electric (usually solid body), acoustic, and acoustic-electric. You'll find each type has characteristics and features to attract different players. You may want to choose the acoustic-electric if you're a beginner because you can get a very-playable, good-sounding instrument without spending a lot of money.
This gives you the option of playing without amplification or with amplification, depending on the setting. You may also benefit from using a pick when the bass is not connected to an amplifier. This gives you a louder sound and a crisp tone.
With prices ranging from less than $200 to about $400, you can definitely use "budget" as one of your deciding factors when buying an acoustic-electric bass. The key, as mentioned earlier, is to find one that is comfortable to hold and comfortable to play. It's also important to find one that performs well when amplified. You may have to go through a little trial-and-error to find a small amp that will deliver the bottom end you want without annoying overtones.
When you choose Ibanez, you get excellent quality and tone, along with extra attention to appearance. Ibanez does devote a bit of time and effort to making its instruments appealing. The manufacturer takes pride in choosing excellent wood for a full sound.
Differences
Fender is a leader among guitar manufacturers and has found success with its dreadnought/cutaway style acoustic-electric bass. The sound of the Fender bass is characteristically warm and pleasant. Dean guitars have become popular worldwide, especially among beginning bass players. The company produces good value for the money you have to spend.
In the final decision, with an acoustic-electric bass, a six-string guitar, or a solid-body electric bass or guitar, you must get beyond the first impression and color. The most important factors are neck and fingerboard comfort, tightness and accuracy of the tuning keys, and the sound produced both when amplified and when not amplified.
When choosing an amplifier that works well with your new bass, you'll be looking for equipment that is designed to reproduce the natural sound of the acoustic instrument. The keys are cleanliness and accurate tone. Loudness (volume) can actually be a problem when you amplify an acoustic instrument. So take some time to find the right amp, after you've invested in a quality acoustic-electric bass.