(Last Updated On: December 21, 2017)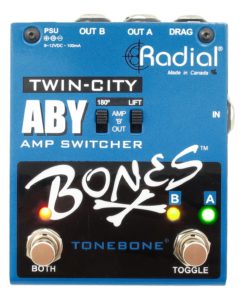 What is the best ABY pedal of 2018?
Every guitarist desires an amazing pedal that brings out the passionate feeling of an exceptional effect.
There are numerous ABY pedals with different strengths and effects on the market and we will help you choose the best one for your needs. Let's look at them.

Top 5 Best ABY Pedals: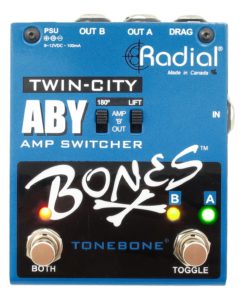 Radial Engineering was able to adopt the highly acclaimed buffering technology and the same Drag Control load correction circuitry which was used in the award-winning Radial JDT injector to enable users to connect two amps and drive them simultaneously without noise, altering of the guitar tone or loss of gain.
This is an incredibly active ABY switcher and buffer. The Twin-city footswitch eradicate the noise susceptibility of the amps and also the impedance, making it the perfect signal driver for large stages using cable runs. It has a durable constructed 14 gauge steel designed to withstand busy stage.
The Radial EIS (Electronic Impulse Switching) of the Twin-city footswitch eliminate the challenges of mechanical switches, thus giving a superb performance.
It also has a LED indicator which makes on-stage switching easy as it indicates the activated output.
Among several features, this ABY pedal has a phase reversal and ground lifting switch. The huge pedal board and long cable runs retain the signal quality of the guitar and switching between amps are swift.
This pedal is especially recommended for professional players on big stage performance because of its long cable runs.
However, the pickup-to-tube-circuit relationship between a guitar and tube amp stays strong as it is built to withstand load change without altering the original tone of the guitar.
The price might seem a bit high but it would be a wise buy giving the quality it ascertains and it is guaranteed to last for years.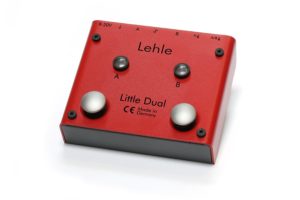 The Lehle Little Dual Amp switcher is a durable, well-constructed, maximum signal amp switcher with amazing true bypass operation, activating two amps simultaneously using the left footswitch. The right one is used to switch back and forth between them.
Its uniquely engineered design with silent switches makes it flawless and it is capable of handling stereo sources with a seamless switching operation.
The Lehle Little Dual features a gold-plated-contact phase inverter and a gold-plated-contact ground switch and can be operated either in alternation or in parallel without sound loss or hum.
This pedal functions as A or B, and can effectively do A and B setup as two inputs can be routed in stereo to outputs A and B. Using the stereo signal of an effect unit as the input enables routing instruments equipped with two pick-ups, including some acoustic, hybrid guitars and double basses via two amplifier systems with ease.
If you would like to play through your effects and simultaneously record a dry signal for later re-amping using a mixer/recorder, as long as your mixer/recorder has a HiZ input, Lehle will do just that.
Alternatively, you can use an XLR or TRS cable for your output signal. An additional advantage is that this pedal alters no sound or dynamics as the signal passes the switcher with no loss of frequency or signal strength. It guarantees full frequency range of quality sound.
This pedal has a specially built Lehle LTHZ transformer in it which electrically isolates ground connection and break hum at this point.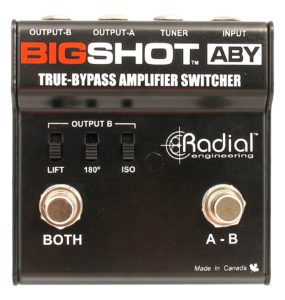 The incredible ability of Radial BigShot ABY true passive switcher to toggle between guitar amps and yet keep its original signal quality or play both amps at once perfectly makes it an interesting ABY pedal to use.
The output B has a polarity reverse, ground lift and isolation transformer 14-gauge steel construct capable of suppressing any noise. The dynamics of this pedal is that it avoid ground loop or out-of-phase play in which the speakers are synchronized perfectly to avoid one moving forward and the other backward.
Experienced guitarists observed that guitar pickups react differently when connected to tube amps and solid state amps even if they have the same load or impedance.
Radial invented "Drag Control" function that enables the guitarist 'dial-in' the desired amount of load on the pickup which allows you create the feel and tone as if connected directly to a tube guitar amp.
Radial BigShot ABY True Passive pedal is specially designed to accommodate two entirely different setups as it can record both the same time. It would record your guitar both dry and thru the effects pedals.
You don't need a 9V battery to power the switcher as it requires no power at all.
However, the Radial BigShot ABY pedal only has a mono input which is not a very good feature. It has just ¼ switch jacks, and if you would like to have stereo effects using two amp this pedal cannot do that.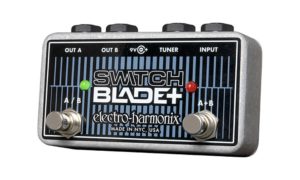 The new Switchblade+ is your utilitarian sidekick as it comes with a fully passive audio path and active LED indicator.
Electro-Harmonix Switchblade+ can be powered by a 9V battery or a 9VDC battery eliminator capable of delivering at least 16mA.
It can also operate without power since the audio path is fully passive. Switchblade+ route your signal to output A or B or both A+B simultaneously, easily switching between different pedal boards. It guarantees no signal loss.
The turner port can be used as an additional output to another effects chain or amp.
This pedal also comes at a very fair price.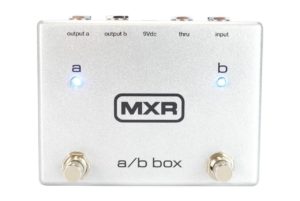 MXR M196 pedal is a simple, economical, and an effective ABY amp switcher used to select different amps or both amps at the same time with different effects.
The revolutionary development of MXR Company designed this effects pedal to be a tough and rugged stompbox in a small size. The Thru output can be connected to a tuner, an amplifier, or any device which needs to receive the signal always.
The device delivers a signal to two separate outputs. Unlike most pedals, MXR M196 runs on a 9V battery. This pedal can be used with active bass guitar, even with two high gain amps and will not disrupt the quality of your signal or give humming sound. It is a simple and effective device for bass guitarist.
Comparison of ABY pedals
Let's analyze these pedals to know which is more favorable.
Active Buffer Pedals
The buffer means to electronically strengthen a weak high impedance guitar signal to run over long cable without tone degradation.
Always active regardless whether the pedal is on or not.
Enhances weak high impedance signal over longer cable runs from your guitar to the amp without tone alteration of the guitar.
Active low impedance pickups can drive signal through at least 100 feet cable.
Buffer pedals prices are high.
Passive True-bypass Pedals
True bypass simply means that the signal from your guitar passes through the pedal unaltered when the effect of the pedal is turned off (bypassed).
A true-bypass pedal won't drive signal through long cables to the amp which might cause tone alteration or loss when the pedal is off.
Passive high impedance pickups can drive signal through approximately 18 feet cable.
Passive pedals are cheaper than active pedals.
Choosing a Good ABY Switcher
In choosing which pedal works best for you, understand that you have to outline your need and review which pedal can solve your challenges be it an active pedal or a passive pedal. The evolutionary world of technology we are in has given us an edge in what to expect from companies willing to push their products to the market.
Some pedals are unparalleled compared to others due to the boundaries they were able to break in ABY innovation, solving almost all challenges a guitarist might face. You might have difficulties deciding which ABY is best suited for your quest. There is no harm in trying multiple pedals as there is a 95% chance you will get the best out of what you decide to go for if you make the right decision.
However, there is no right or wrong when it comes to selecting the ideal ABY switcher. Decision to select a passive true-bypass ABY based on the belief that it might be the only way to retain absolute tone of the instrument or that of a purist to select an active buffer ABY switch believing it will reduce susceptibility to noise from lights, transformers, radio frequencies and other magnetic fields and enables longer cable runs might turn out to be the right one.
Passive switchers are less expensive and hereby, might appeal to large audience. Today, some of the active buffered ABY switchers are so good at managing guitar signals. These active buffered ABY switchers are designed to eliminate problems of a passive switcher, though at a higher cost.
Features of the Best ABY pedals:
ABY pedal must be able to eradicate noise and break humming sounds.
It should be able to switch between amps or select two amps without altering the dynamics or quality of the signal.
ABY pedal should have a phase reversal and ground lifting switch or should be able to do that.
An ABY pedal should be able to retain the original signal quality of the guitar when connected via long cable to the amp.
It might have LED indicator to indicate the activated output while playing.
A good ABY should be very rugged and should be able to withstand accidental stomp.
In view of everything said above, it is easy to say active buffer pedal is the best for users as it is durable and guarantees quality signal for stage performance and indoor recording.
Radial Engineering Twin-city Bones ABY AMP Switcher prove to be an amazing piece to use regardless of the cost as it possesses almost all the unique features to give you an amazing playing experience. In our opinion, it is the best ABY pedal available on the market at the moment.