(Last Updated On: December 21, 2017)
Everybody loves music–and some of us don't just enjoy listening to music, we enjoy playing it too.
So, you prefer the versatility, sound, and feel of a piano but want to avoid the size, weight, and expense of the real thing.
Not a problem. We'll show you 3 of the best 88-key keyboards to get you playing like a pro.
Top 3 Best 88-Key Keyboards:
Pros
Semi-weighted, full-sized keys
Velocity-sensitive
Quality sound
128-note polyphony
Split and Layering capabilities
Built-in speakers and metronome
Lesson mode
USB-MIDI and RCA auxiliary connectivity
Battery-powered flexibility
1/4" headphone & sustain pedal ports
Great price
Cons
Only 5 voices
Lack of labelling makes a few functions a bit complicated
First up, the Alesis Recital. If you're looking for a digital piano that's inexpensive yet is still competitive, you've come to the right place. This keyboard comes packed with a whole host of useful features.
Semi-weighted, full-sized keys mean you'll be able to recapture all the responsiveness and feel of a real grand piano. They're also velocity-sensitive, so you can add some real depth of feeling to your playing. The Recital also comes with adjustable key sensitivity so you can make the instrument match your playing style.
The instrument comes equipped with 5 great voices: acoustic piano, electric piano, organ, synth, and bass. They can be layered, too, for an added dimension of creativity; or you can just split the keyboard. To give the sound that extra edge, the Recital also comes with reverb and chorus features.
There's also a metronome for practice purposes. Lesson Mode divides the keyboard into two areas with the same pitch and voice to make it easier for a teacher and student to practice together. And you can always connect your headphones for private practice. The port is at the front, not at the back, which makes it much easier to use.
With that said, a few functions can be a bit more complicated than they could be. The metronome function requires you to use a combination of the piano keys to manipulate it—and they're not labeled. Generally, though, the keyboard is very user-friendly and easy to work with.
The Recital can be powered by 6 D-cell batteries for outdoor play. RCA aux outputs allow for connectivity to an amplifier or home stereo system in case the 20-watt speakers aren't enough. USB-MIDI connections also mean this keyboard is a great fit for the studio.
The Alesis Recital gets you all these great features and more for about $200, and it weighs just 15.7 lbs. The design of the instrument is also sleek and sturdy. Quite a steal by any standard!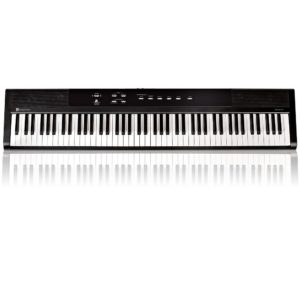 Pros
Semi-weighted, full-sized keys
Velocity-sensitive
Quality sound
Split and Layering capabilities
Reverb and Chorus features
Built-in speakers and metronome
Battery-powered flexibility
1/4" headphone & sustain pedal ports
Great price
Cons
Only 5 voices
Built-in speakers not loud enough
The Williams Legato is another great place to stop if you're looking for a good 88-key keyboard. You'll be hard-pressed to find a better quality digital piano for this price. At this price, many other keyboards just won't be competitive enough—not so with the Legato.
The Legato boasts full-sized, velocity-sensitive, semi-weighted keys that offer a great feel comparable to an authentic piano. The sensitivity of the keys allows for dynamic and expressive play.
The sound of the piano is also very good, and the Legato comes with four other voices: electric piano, organ, synth and bass. These sounds can all be selected singly, layered or split. The Reverb and Chorus features can also be applied to individual voices and are retained even after powering down the instrument.
The Legato also comes with 1/4" headphone and sustain pedal ports. It can also run on battery power—perfect for not getting cooped up in one place. It comes with built-in speakers too, although these can fall a bit short on delivery. This is easily remedied, though, by connecting the keyboard to an amplifier.
The Williams Legato weighs 23.6 pounds, takes up little space and is an excellent yet economical choice for beginners and advanced players alike.


Pros
Semi-weighted, full-sized keys
Velocity-sensitive
Quality sound
Split and Layering capabilities
Built-in speakers and metronome
10 voices
USB-MIDI connectivity
1/4" headphone & sustain pedal ports
Cons
Headphone jack at the back can be cumbersome
A bit expensive
Yamaha has been churning out great digital pianos for years, and the P71 is no exception. This keyboard comes ready to play with some pretty great features. It's a great option for anyone looking to get all the range and power of a full-sized piano without the space and price requirements of one.
The Yamaha P71 comes with full-sized, semi-weighted keys which are very responsive and velocity-sensitive. The P71 also offers a great piano sound, boasting digitally sampled sounds from real Yamaha grand pianos.
One cool thing about this digital piano is that the lower end keys are weighted more heavily than the others. This tiny detail goes a long way in duplicating the actual physics of an authentic piano. That translates into an even more realistic grand piano feel for the player and is always a plus.
The P71 is loaded up with 10 voices: 2 acoustic pianos, 2 electric pianos, 2 organs, strings, 2 harpsichords and a vibraphone. Not much variety overall but it does offer you a few options for the voices themselves. You can layer the voices or split the keyboard in the right and left hands depending on the kind of sound you're after.
Built-in speakers, metronome functionality and a 1/4″ headphone jack mean this keyboard is a great option for practicing. There's also a port for attaching a sustain pedal. This is another keyboard that offers MIDI capabilities and would be at home in a studio setting.
One thing to note is that the headphone jack is located at the back of the keyboard, which can make things a bit awkward depending on how long your connection is. Also, the P71 can be a little pricey for some. All in all, though, it's still a great buy.
The Yamaha P71 weighs 25 pounds, making it a portable option. It's another great product from one of the best manufacturers around and well worth a try.
What To Look For When Buying the Best Digital Piano with 88 Keys
Just before we get into that, though, let's take a quick look at some things to consider when buying a keyboard.
The Keys Themselves: Weight & Sensitivity
If you are serious about playing the piano, you're going to want to get used to playing on weighted keys. The weight of the keys do matter.
For starters, acoustic pianos are made with weighted keys—it's inherent in the design of the instrument. For that reason, it's important to get a digital piano with weighted keys. Otherwise, you'll find making the switch to the acoustic instrument to be troublesome.
Beyond that, weighted keys generally offer far better dynamic capabilities. That means better execution and interpretation of loud and soft passages. Unweighted keys typically fall short in this department.
The Sound: Authenticity
Naturally, an authentic acoustic piano sound is paramount in a digital piano. Many keyboards fail to truly capture the timbre (the signature sound) of a well-made piano. You'll want to ensure your digital piano fits the bill. If you don't know what sound to look for, it'll be worthwhile to engage the services of a friend who does, or of a professional.
Modern keyboards are getting better and better at replicating the sound of a true piano. Advances in sound engines and sampling techniques make for some truly inspiring creations. But even then, you'll need to do some searching—like with the real thing, all digital pianos are not created equal!
Polyphony: Versatility
Polyphony refers to the number of notes a keyboard can play at the same time. This will inevitably affect the type and size of chords, and indeed the type of music you can play. It will also affect how much and how well the sound can build as you sustain and add chords and notes.
Many keyboards nowadays come with 64-note and even 128-note polyphony, and the numbers are only rising with time. It can be a real pain, however, to end up with a keyboard that simply can't handle what you want to do.
The Features: Functionality
One of the most important things is knowing what you want from your instrument. Are you looking for a simple and practical replacement to a piano in your home for practice and entertainment? Or are you looking for something more complex to record with go gigging with?
More and more digital pianos are being made with more and more sounds, features and sophisticated features. If they're not what you need, though, you can simply choose an instrument with few features but high-quality piano sound. Typically, more features means more cash.
Why 88 Keys: Practicality
If you're serious about playing the piano at the highest level, you'll want to get an instrument that offers the full 88 keys. Simply put, there are some pieces that require the full complement of keys. They simply won't be accessible to you on anything less.
The deciding factor in all this, however, will always be what you, the player, hope to achieve. In that sense, the "best" instrument for you is really a matter of personal taste and the end goal in mind.
And with all that out of the way, let's take a look at the best 88-key keyboards you can get on the market right now.
So, What's the Best 88-Key Keyboard?
These are all without a doubt great keyboards, each offering good functionality and sound at affordable prices. It's hard to go wrong with any of them; it's all a matter of preference.
If you're looking for versatility, though, I'd suggest the Alesis Recital. Its many features give it a slight edge and make it a great keyboard for teaching, learning, performing or composing in a studio.