(Last Updated On: December 21, 2017)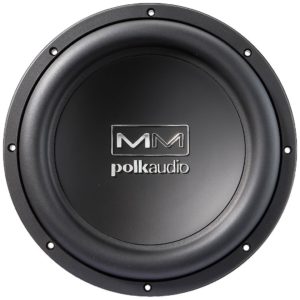 True audiophiles will immediately start looking to upgrade their car's audio system when they purchase a new vehicle. The differences between a factory system and a quality aftermarket system can be like night and day for those who appreciate their music.
If you want a deep, rich, bass sound, without the overkill of a larger speaker, an 8-inch subwoofer will deliver what you are looking for.
Choosing the best 8-inch subwoofer for your system can be overwhelming with so many choices on the market, so we have chosen several woofers that provide a mix of price and performance. We will look at general features, pros and cons of each speaker, and which we feel is the best overall performer.
Larger subwoofers can be overpowering and distort the overall musical experience. Many people make the mistake of underestimating smaller subs, but if they are properly installed and powered than can deliver great bass for an economical price.

Top 4 Best 8-Inch Subwoofers: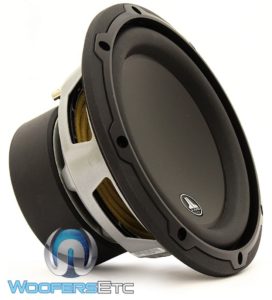 Features
8″ Single 4-ohm Subwoofer
Mineral-filled polypropylene cone woofer
250 Watts RMS / 500 Peak
Rubber surround
Top Mount Depth: 4.63″
Cutout Diameter: 7.09″
Description
The JL Audio 8W3V3-4 8″ Single 4 ohm W3V3 Series Subwoofer is a highly rated, more expensively priced, 8-inch subwoofer which provides serious sound without any of the distortions that you would expect to find in less expensive woofers. They provide an almost unexpected low bass audio reproduction for their size.
Of the four speakers that we reviewed for this article, these are the most expensive, at around $180 per speaker, but the sound you get is very good.
JL Audio is known for their extremely well-performing products, and this 8-inch subwoofer is no exception.
JL Audio designed them to produce powerful bass while being pushed with a medium-power amp. They have cooling features that deflect heat away from the internal motor structure which ensures long term durability.
The subwoofer has an 8-inch mineral-filled polypropylene cone, while their patented design eases the stress experienced by the assembly during cone movement. It provides tight, clean bass with outstanding power handling and control.
The subwoofer can be driven by as little as 75 watts, but for the best performance, we recommend running an amplifier capable of between 175-250 watts.
If you have a little extra money to spend, the JL Audio 8W3V3-4 is definitely worth a look.
Pros
Serious sound with minimal distortion
Very durable due to patented cooling features
Low bass audio for its size
Cons
Most expensive of the four speakers we reviewed
A bit bulky, but nothing too bad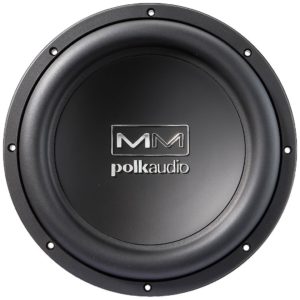 Features
8″ 4-ohm subwoofer
Polymer cone with butyl rubber surround
Carbon composite basket
Certified for marine use
Power range: 100-250 watts RMS
Peak power handling: 500 watts
Frequency response: 26-200 Hz
Sensitivity: 89 dB
Top-mount depth: 3-15/16″
Description
If you are looking for a quality subwoofer, with great frequency response and a good price, the Polk Audio AA3085-A MM840 may be just what you need. They are currently listed at $99.99 and deliver a great sound for the money.
Polk Audio's new Mobile Monitor (MM) series is their next generation in loudspeaker design. The AA3085-A MM840 is designed to offer unparalleled sound quality with exceptional value for the price.
It hits very hard for an 8 inch and fills in music perfectly. It is not overpowering, just clean, crisp bass. The sound is very clear and deep, sounding almost as good as a 10-inch sub.
The speakers are available in Single and Dual Voice Coil Configurations which allows for flexible wiring options and the nickel plated heavy duty input terminals accommodate speaker wire up to 8 AWG or twisted pairs of 12 AWG.
These speakers are a great option when balancing performance and price.
Pros
Great sound for the price
Flexible wiring options
Crisp bass
Cons
Long break-in period
Noticeable strain handling 500w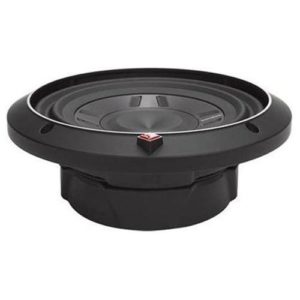 Features
8″ Dual 2-Ohm
Power Handling: Peak: 300 watts / RMS: 150 watts
Impedance: Dual 2 ohms
Top-mount depth: 2-11/16″
Frequency response: 38-250 Hz
Description
Another moderately priced 8-inch subwoofer, the Rockford Fosgate P3SD2-8 really impresses. The speaker has a peak power rating of 300 watts and an RMS rating of 150 watts.
This subwoofer produces some punching bass and is constructed with an anodized aluminum cone and a vertical attach surround technique.
The Punch series woofers deliver not only the output to satisfy you when you want your music loud, but can maintain a sound quality for when you want to listen to and enjoy your music.
The Rockford Fosgate engineers continue to improve the Punch series year after year, making it one of the most sought after lines for audiophiles and bass lovers alike.
It features a dual tear and fatigue resistant poly-cotton spider for extra strength and anodized aluminum voice coil formers to handle heat buildup under full power situations.
In short, this 8-inch subwoofer is designed to perform.
Pros
Substantially better bass than even a premium factory system
Great depth of sound and tight bass
Cons
Definitely not as punchy as some of the other models we tested
Not as low of a range of other models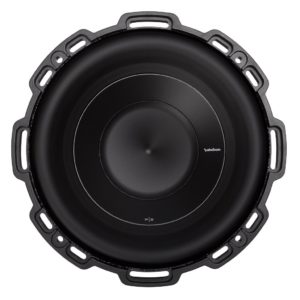 Features
8-inch, dual 4-ohm
250 Watts RMS 500 Watts Peak Power Rating
Features 2.25 Inch Copper Clad Aluminum Voice Coil
VAST Vertical Attached Surround For Increased Cone Area
Features Flex Fit Basket Design
Kevlar fiber reinforced paper cone with high-density polyfoam surround
Description
If you are looking to dip your toes into the waters when upgrading your audio system and can't or don't want to spend a lot of money, the Rockford Fosgate P2D4-8 is for you. Currently selling for around $70, these babies make it happen without having to spend a lot of money. They come in either 2 or 4-ohm models with 500w maximum power handling and 250 RMS.
This subwoofer features a Kevlar fiber reinforced paper cone with high-density polyfoam, high temp voice coils with a spun-laced Nomex reinforced collar, and a flex fit basket that allows for slight adjustments when mounted.
It can make its way down to 33hz, but we recommend tuning your box to about 45-50hz for a better audio experience.
Pros
Inexpensive if you are on a budget
Good quality and experience for the price
Cons
Not as capable of handling power
Does handle lows very well
Some Specs to Consider When Looking for the Best 8-inch Subwoofer
Power – Pay attention to RMS power ratings. RMS ratings measure continuous power handling or output and are a more realistic measure than peak power.
Sensitivity – A sub with a higher sensitivity rating requires less power to produce the same amount of sounds as a model with a lower sensitivity rating.
Frequency Range – Gives you an idea of how low a sub can play.
Enclosure Type – Has a big impact on the type of sound the subwoofer produces. Generally, sealed boxes give the deepest, most accurate sound.
Every audio system can benefit from having a subwoofer. They can provide clean, deep, more powerful bass than a stock speaker. But buying a subwoofer can be a confusing proposition. With a wide range of sizes, amps, and frequency responses to choose from, we believe that an 8-inch subwoofer will provide a great sound at an economical price.
If you are looking to create an awesome sounding stereo system, but lack enough space in your car or truck to fit a larger subwoofer, a smaller sub like an 8 inch will add a decent amount of punching bass to any vehicle.
Admittedly, an 8-inch subwoofer probably isn't going to turn any heads as you're rolling down the street, but don't underestimate the four subwoofers we'll be reviewing below. A properly installed and sufficiently powered 8-inch subwoofer can make a world of difference.
As we dive in and start to review what the best 8-inch subwoofer is, we'll look at several factors, including a few technical specs, sound quality, and overall performance. While you may get a deeper thunder with a larger subwoofer, because of the smaller cone and weight of an 8-inch subwoofer, it is easier for the magnet to move, which results in a punchy bass sound.
The Winner
In our hunt for the best 8-inch subwoofer, we relied on our own testing and the reviews of others to give you the clear winner. Keeping at mind price, performance, ease of installation, and durability, we believe the Polk Audio AA3085-A MM840 to be the best value.
They are moderately priced, deliver outstanding bass and our installers said they were among the easiest to install as well.
Although it took several hours for the speakers to find their groove, the wait was worth it and we feel confident that you'll be happy with them too.
So if you are ready to upgrade your factory system, or are looking for an upgrade to your sound, but can't fit 10" or 12" subwoofers in your ride, you won't be disappointed with this choice.