(Last Updated On: December 21, 2017)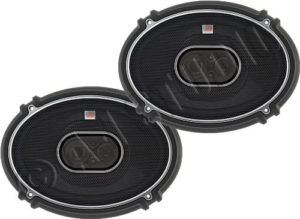 When it's time to upgrade your car's speaker system, many people turn to the reliable 6X8 upgrades, and it's hard to fault them for that.
With that said, if you're looking for a little more punch out of your new speakers and you're especially hoping for a bit more bass and some of that low-end rumble, taking your old factory standards out and replacing them with the best 6X9 speakers on the market is probably the best way to go.
To help you, we've created this buyer's guide.

Top 5 Best 6×9 Speakers: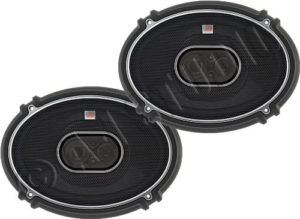 For around 60 dollars, these 6×9 speakers will impress you with their performance. They may not look like much, but they sure do pack a punch. The JBL GT0938 speakers provide crisp sound – especially in the high and mid ranges – but they'll really blow you away on the low end.
They feature a Plus One woofer cone, which JBL says gives the woofer more cone area, and a lot of it. That means more bass and higher response. These speakers handle bass really well and they can take 300-watts, so if you're a fan of booming bass — these speakers are for you, especially since they won't muddy up the rest of your sound.
As a bonus, these are made to be replacements for the factory OEM speakers, so they should be very easy to install on your own. The mounting hardware is not included, though, so be prepared to figure that out on your own.
Positives
Solid, dependable speaker brand
Plus One woofer cone
Mylar/titanium composite tweeters
Compatible with any head unit
Easy to install
Negatives
Mounting hardware not included
The highs can come across a bit sharp and harsh at times.

For not a ton of money — around 80 dollars — you're going to get a ton of quality with these Polk Audi DB691 speakers. They have great balance and you can play them very loud without losing clarity or having the tones blend into each other.
These speakers will give you plenty of midrange tones and the highs come across incredibly clear. The silk polymer composite dome tweeter is the reason for that, and that's one of the biggest pros when it comes to evaluating these speakers.
The DB91 speakers have a rubber surround, which helps it hold on to the bass and it also protects the equipment. Speaking of, these are marine certified, so you can expose them to the elements – like on a motorcycle, jeep or even a boat – and they'll be just fine.
The marine certification really allows these speakers to stand out, at least on this list, and it offers you, the buyer, a bit more versatility.
Sure, most of the time when people think of replacing 6×9 speakers they think of cars, but motorcycle enthusiasts also love to upgrade from the factory standard and quality is important when you're exposed to the wind and elements. And if you have a boat, you'd be wise to upgrade to the Polk Audio DB691's and make your marine craft the center of attention when you pull up to the sand bar.
They have a maximum power input of 125 Watts RMS. The only downside to these speakers is you won't get the bone shattering, booming bass people have come to love from their 6×9's, but that doesn't mean the quality of the bass is any less.
Positives
3-way speakers
Polymer/mica composite cone with rubber surround
1-inch liquid-cooled silk polymer composite dome tweeter
Marine certified
Negatives
For as good as the mids and highs are from this speaker, it may be lacking a bit in the bass department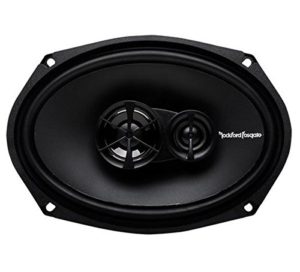 If you're looking to replace your factory speakers and want to make the jump to 6×9 speakers, the Rockford Fosgate R169X3 speakers may be the least risky way to go about it.
For under 50 bucks, you're going to get some really nice, clear highs and mids because of the mounted piezo tweeter, the polypropylene cone and rubber surround will keep the sound – and bass – feeling warm and clean, and if you're looking to install on your own you'll have all the hardware you need.
These aren't the highest quality speakers on the market, but for the price, they do the job.
Positives
Vacuum Polypropylene cone and rubber surround
Silk dome pole mounted Piezo tweeter
Hardware included for mounting
Integrated high-pass crossovers
Negatives
May have a hard time fitting depending on car
Underwhelming thump from the bass
May require an amplifier to get the full experience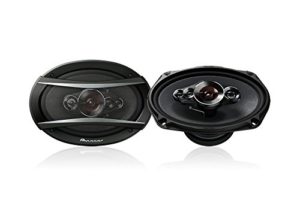 The price range goes up a bit with the Pioneer TS-A6996R speakers, but they are worth the extra few bucks. There's a reason these are a bit more expensive, and that's because they bring a whole lot to the table.
You're going to really notice a huge difference between these speakers and the factory-grade ones. They pack a bunch of power but don't lose any quality or crispness — especially in the mid and high ranges. The bass "thump" can be a bit underwhelming at times, but they still have a good response to the lower frequency sounds and it still is clear. It just doesn't have that kick that you like to hear.
Positives
5-way Speakers
650-watts max power
Multilayer Mica Matrix Cone Woofer
Soft-dome Tweeter
Waveguide
Negatives
Need time to break in
Could be a tough fit
May require separate subwoofer for added bass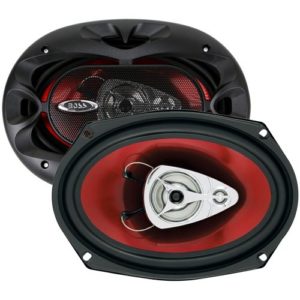 Checking in at just under 30 dollars, these are the cheapest speakers on the list, and you could probably tell if you were to try all of them side-by-side. You get what you pay for with speakers, but that's not to say these are duds.
They're certainly an upgrade over the factory speakers and they can provide a good listening experience at much louder levels. You'll get a full sound out of these and it will be clear. As a bonus, they look pretty cool, and there is a dealer warranty, so if something goes wrong within three years you're going to be covered.
If you're simply looking to fix blown speakers or perhaps you don't absolutely need breathtaking sound but want an upgrade, these aren't a bad option. If you're wanting to feel the bass and the low end from your speakers, though, perhaps it would be best to check out one of the other options on this list.
Positives
50 Hz to 20 kHz Frequency Response and 92dB Sensitivity-Poly Injection Woofer Cone
Rubber surround
1 tweeter per speaker (3-way)
2 midrange cones per speaker
3-year dealer warranty
Negatives
Cheap. Great for the price but won't stand up to higher quality 6×9 speakers.
Underwhelming bass
What to Look For When Buying a 6X9 speaker?
Feel the Bass
Remember, the reason you're going after a 6×9 speaker instead of a 6×8 is because you want to get a little bit more "oomph" out of the sound coming from your car.
So with that in mind, if there's a way you can test the speakers beforehand, make sure that you're able to feel the bass and it's up to your standards. The feeling is just as important as hearing in this instance.
This may seem like a simple point, but remember, it's all about your expectations. People expect a good thump from 6×9's and bass quality is very important. You may not pick up the lowest tones that you'd expect to be blasted out from a dedicated subwoofer, but the woofer cone on your 6×9 and the way it's made/what it's made from can be very important.
The case can be made that a good 6×9 speaker makes a separate subwoofer or amp for your car irrelevant, so make sure the set you're looking at lives up to that standard.
Design/Installation
This is another simple point, but why not consider the design and look of your new speakers? You're upgrading, aren't you? And the sound isn't the only important thing that matters. If you're going to spend the money and tell your friends and family that you upgraded the speakers in your car, you may as well make sure they look cool.
You want something that's going to look sleek and look good with your car. Sure, most speakers have that bland "speaker color" that allows them to blend in with your car, but sometimes a pop of color or a fancy design isn't a bad thing.
It's also well worth pointing out that not every speaker is going to fit into every car, so you have to do your research to make sure you're getting a good fit.
The last thing you want to do is get your new speakers and realize they just aren't compatible with the speaker box in your car. That means you've either got to get a new set, or you've got to start making some alterations, and all that means is more time and money wasted.
A little research can go a long way in picking out the best 6×9 speakers on the market for your car.
Frequency Response
Different speakers have different frequency ranges, so this is actually a very important point to consider as a consumer.
You want to make sure that the speakers sound just as crisp and clear when playing lower frequency notes as they do when playing high-frequency notes The way the cones, woofers, and tweeters are designed to play a big role in that, but so do the materials your speakers are made out of.
Tweeters are important for relaying the high frequencies in a quality fashion, and your lower tones are all dependent on the material and strength of the woofer. It has to take a ton of power coming out of it so it needs to be sturdy. If it's too loose you're going to end up getting a rattle and poor-quality bass.
You want your speakers to be able to hold their tones low and blast your tones high, all while maintaining clarity and quality. The bigger the range your speakers have on the Hertz scale, the better. That allows you to listen to a variety of music – or any sound – out of your speaker and not have to worry about adjusting anything or face the risk of losing sound quality.
The Takeaway
You want to upgrade your factory speakers and you're looking for a bit more in the power department – especially on lower end frequencies. It would be tough to go wrong with any of the speakers we reviewed above, but if push came to shove and we could only pick one to declare the best 6×9 speakers, we're going to roll with the JBL GTO938 speakers.
JBL is a great brand for audio lovers and though you're going to be spending 60-70 dollars, these are well worth the price of admission. At 300-watts and with the Plus One woofer cone, you're going to be rolling around making people think you've spent the money to get a dedicated, separate subwoofer for the car.
The bass is going to be booming and the low end will definitely be noticeable. You won't bleed out the mid and high tones either, though, so overall these are very good speakers for people looking to make an impact on their audio quality.
As always, keep your needs in mind. If you're simply looking to replace your blown speakers and you don't care as much about impressing your friends, family, or neighbors with the insane audio quality and bass thump coming from your car, the cheaper options on this list will do.
Still, though, for around 70 dollars, you can't go wrong with the JBL GTO938's.
Plus, they're easy to install, so it's really a win-win. If you're looking to replace your factory OEM speakers, this product would be a perfect choice.
You're not going to be spending a ton of money in the long run, but you'll see a dramatic increase in quality, sound, and power. Just remember that the mounting hardware is not included, so be prepared to have to do a bit more digging once these show up at the door.