(Last Updated On: January 23, 2018)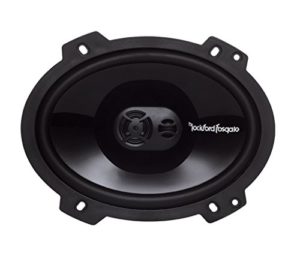 Looking for the best 6×8 speakers for your car? You're in the right place.
There's always that moment when you're listening to your favorite song and cruising down the street.
It's that moment when the music can't get loud enough through those speakers. The bass can't boom deep enough and the vocals don't come through clear enough.
That moment, when you're fully engrossed in the music and just wanting more of that "oomph", is generally the result of a basic car stereo system.
If you've got basic speakers or the factory installed versions, ultimately you're going to be listening to basic sound.
If you can make an upgrade, though, and go from good to great; the quality of your sound — and the quality of your experience — can greatly increase.
That's why having the best 6×8 speakers money can buy is integral for today's consumer. And with that in mind, here's a buying guide to help you, the consumer, pick out the best 6×8 speakers for your car.

Top 5 Best 6×8 Speakers: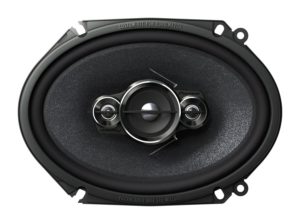 This 4-way speaker brings a ton of value to the table for the customer. It's not the fanciest 6×8 speaker out there and it may not start a block party all on its own, but if you're looking to improve the sound in your car and you're working on a budget, these will do the trick.
These speakers have great value and pack a ton of punch and power for the price — under 50 dollars. They'll make the factory speakers seem like they were made for a kid's toy. The max output power for these speakers is 350 Watts
You'll get crisp sound, especially with the middies and the highs. Because of that, vocals will sound great, and you'll definitely be able to crank up the volume. These are billed as having a "multilayer mica matrix cone structure", which means the frequency response should be good.
The TS-A6886R also has a new and updated tweeter design, which is likely why the mid and high frequencies sound so good on it. You'll be able to crank these speakers up without losing any of the sound quality, and that's great considering the value.
The one big negative is these speakers may not have the "oomph" that you're looking for in the bass department, so you may have to boost it from the head unit or if you really want to get things rocking, get a woofer to work alongside of it.
The good news is these top-rated 6×8 speakers are available in multiple sizes and they should fit most vehicles, so again, the bargain is there. Quality at a good price is hard to beat.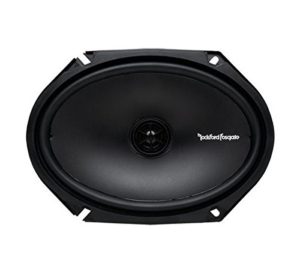 These are not going to win any contests for the loudest speakers in your county, but they provide very good bang for their buck, and if you're looking for a simple and cheap upgrade to your factory speakers — these will do the trick.
The cone on these bad boys is made from vacuum polypropylene and there's a rubber surround. The tweeter is mounted and has a silk dome and there's also a tweeter crossover. So what does that all mean? Sound quality. You're getting a ton of bang for your buck with these speakers, especially if you like to listen to your music loud and not have said music become all distorted and garbled.
The high tones are going to be nice and crisp and everything in the midrange is going to sound like it's intended to. For being on the cheaper end of 6×8 speaker purchases, the range of the speakers and the quality they provide really can't be beaten. The acoustics are solid and the tone is crisp, but they can still provide the punch people are looking for when the volume goes up.
They won't have the biggest bass sound and feel, but considering the price it's more than adequate. Of course, if you're used to huge subwoofers these speakers may simply seem adequate in that department, but if you're looking for an upgrade and don't want to go all-in with a sub, the R168X2 will provide depth and plenty of pop.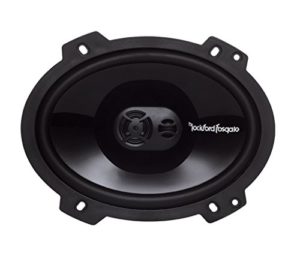 The Fosgate Punch P1683 lives up to its name. It's going to provide you the punch you're looking for.
For those wanting an upgrade on the factory standards but not necessarily wanting to jump all into having a subwoofer, the Punch could end up being a tremendous option. It's not really expensive and it's not going to blow you out of the water like you're at a concert, but you're going to get crisp sound, clear highs that don't bleed into the lows and you're going to be happy with the bass.
The audio quality will definitely be cleaned up compared to your factory speakers, and these will give you that "thump" you come to expect from a sub — but there won't be any distortion and you won't lose quality. In fact, you may be surprised that the bass is coming from these 3-way speakers.
These speakers have a 130 Watts maximum power handling (65 watts RMS) and one of the unique features is the FlexFit basket design, which allows you to adjust the position of the speakers. The frequency response on these is 65Hz – 24kHz and they have 90dB sensitivity. They feature a mineral-filled & polypropylene injection molded cone and a PEI dome tweeter with a crossover.
The downside with the Fosgate Punch P1683 is that they could be hard to install and may be tough to fit, depending on what kind of car you're trying to put them in. You also may not be able to crank the volume up to its highest capacity — or at least do so at a consistent level — without hurting the long-term quality of the speakers. With that said, that can be said for most audio products.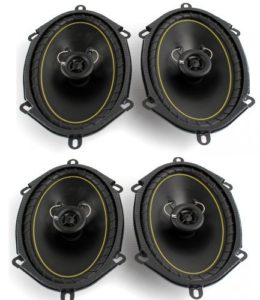 Now that we're at the DS68 we're starting to see a slight price increase, but there are quite a few reasons to consider these speakers.
First of all, the price increase isn't huge, but the quality of these speakers is starting to approach high-end. They produce very clean and clear sound and have the potential to get very loud. They have a 140 Watt maximum power (280 Watt 2 Pair) and a solid motor structure. Of course, you don't want to test them to the limit and blow them out — because that's always possible — but you shouldn't have a hard time hearing out of these things once you get them all setup.
You may not get the bass and "whomp" of some of the other speakers on this list, but the audio quality of these speakers is hard to beat. And that's not to say the bass is bad. The mid-range is golden and the tweeters are built in, so the high frequencies can be borderline incredible. The bass may lack depth, but it's clear and provides plenty of bottom end.
As an added bonus, these are meant to easily fit into any vehicle as a drop-in factory upgrade. Remember that easy installation and being able to get speakers that fit into your car aren't necessarily guarantees, so the convenience factor alone may make these worth it.
Considering the price and the upgrade in sound quality — if you want more body on your base you can easily get a small sub — the DS68 speakers could end up being the real deal.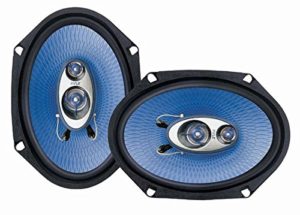 These 6X8 speakers feature a poly-mica coated woofer cone. They have a max power of 360 Watts a one-inch dome midrange and 3/4 inch Piezo tweeter. We're back down in price again with this Pyle product (roughly 15 dollars a piece), but as was stated before, the bargain is half the reason to buy these speakers.
If you're on a budget but looking for an upgrade, these should be considered.
They are clear and have no problem hitting the high frequencies. Of course, at this price range they're not going to blow you away in the volume, feel, or bottom end department, but they do produce decent bass and midrange frequencies, so if you're in the mood for an upgrade or absolutely have to replace blown speakers, these are a great option.
They're easy to install, the sound is quality and it's an upgrade over the factory standard. And you really, absolutely, can't beat the price.
If you're looking for something very impressive, these probably aren't few you. They may not turn any heads and they won't turn your car into the center of attention, but they will do what they're meant to do — upgrade your sound quality. Pair these with a small subwoofer and you've got yourself a respective sound system.
What To Look For When Buying a 6×8 Speaker
Sensitivity Rating
Simply speaking, speaker sensitivity has to do with the inputs: power and sound. Every speaker amplifier has an has an optimal volume it can be at in order for the speaker to work and sounds its best. The sensitivity ranking simply lets you know how well a speaker can handle the power it's getting, and what power it needs to be at to work best.
Generally speaking, the higher the rating is the better your speaker will be able to handle the power it's getting, so if you're looking for big volume out of your car speaker while you're cruising down the road, the difference in sensitivity rankings should mean something to you.
For some people, louder is better when it comes to what's coming out of their car 6×8's, so look for a higher ranking.
Sound Quality
When it comes to having the best 6×8 speakers, sound quality is a factor of many different things. Sensitivity rating, as mentioned above, can impact the way your speaker sounds. If you're pumping way too much power into a speaker that can't handle it, it's not going to sound good, right?
You also have to consider the materials the speaker is made out of. What is the cone made of? All speakers have them but they're all made differently — and that impacts the way the sound comes out of the speaker.
For instance, one speaker may have a cone made out of Vacuum Polypropylene. Another out there on the market features lightweight polypropylene that's reinforced with carbon. How have the tweeters been designed and created? The quality of those can drastically impact the quality of your high tones.
The different textures and makeup of your speaker will ultimately determine how different sounds come out of it. Remember, the subwoofers can be made differently as well, so if you're big on bass and getting the rumble that shakes the neighborhood, pay specific attention to the material and features of the sub.
Quality materials equal quality sound.
Frequency Response
Just how every 6×8 speaker is not the same, not everything you're going to want to listen to through your car speakers will be the same. Sometimes the bass will be high and that subwoofer will be working.
Other frequencies play around more in the middle of high and low, and then, of course, there's the treble. Having a good tweeter on your speaker can make the difference between high frequencies that pierce and ones that shine brightly.
Just how low can your speaker comfortably go while holding its tone and what about those high notes?
A speaker's ability to respond well to frequency and hit a range up and down the hertz scale is important if you're looking for a range of interesting listening options. If you're into talk radio, per say, it may not be important, but if you're an avid fan of heavy beats mixed with middies and highs, the bigger the range the better.
Installation
This may seem simple, but sometimes it's the basic things that are overlooked. How easy will it be to get your new 6×8 speakers into your car? Maybe you're not the handy-type and will just take it someplace and get it done. For the real go-getters, though, the ability to quickly install a speaker into your car without any issues can and does save you money in the long run.
Does it come with any hardware? Do the dimensions fit your car? Sometimes it's best not to overthink things, so while this may seem like a simple point, keep in mind — it is important.
So now that you know some basics of what to look for in a good speaker, let's review a few in order to find out which is the best of the 6×8 speakers.
The Takeaway:
As far as the search for the best 6×8 speakers for your car is concerned, keep this one thing in mind: you get what you pay for. If you're looking for stadium quality sound that's going to turn heads and perhaps get you on a police scanner or two — you're going to have to spend the big bucks and at the very least get a subwoofer.
If you're looking for an affordable and noticeable upgrade for your factory standard features, though, everything above should be considered. Low price and high quality are always a great deal for the consumer, and all of the products above offer a little bit of both.
As far as the winner is concerned, though, we're going to go with the Rockford Fosgate Punch P1683 speakers. They definitely are the best 6×8 speakers on the market at the moment: the pricing is very reasonable and you'll receive a mixture of high-end audio quality and booming base that will make it seem as if you spent much more on your 6×8 speakers than you really did.