(Last Updated On: January 23, 2018)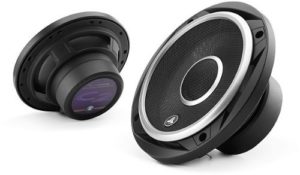 With most car manufacturers installing low-quality speakers into their vehicles, it's no wonder why there is a high demand for component car audio speakers.
For manufacturers, low production costs= better sales. For you, it means you can't hear your favorite songs the way they were supposed to be heard.
This buying guide will give you the overall insight you need to buy the best 6.5 component speakers for the money. Below you'll find what you should be looking for when buying speakers, as well as reviews that will give you an idea on what you want to get out of your purchase.

Top 5 Best 6.5 Component Speakers: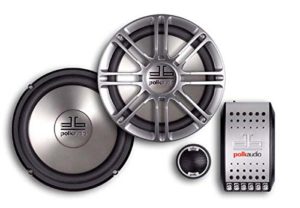 Pros
Very Durable
No Distortion
Deep Bass
Great Value For The Price
Cons
Large Crossover
Difficult Installation
Might Need a Subwoofer (See below)
Adapters Included Are Not of The Best Quality
Description
These 6.5 speakers are made with polymer/mica composite with rubber which both makes it durable and long-lasting. These materials will help the speakers in the long run. Although there is a deep bass, subwoofers would supply a much deeper and crisp sound.
Most users emphasize how crisp the tweeters are. The high sounds delivered are of high grade. Although the woofers deliver a deep bass, an amplifier really enhances the sound quality. As far as buying a 6.5 component system on a budget goes, these are defiantly the speakers that give you the most bang for your buck.
Common Questions
Do I NEED an amplifier?
No, you don't need one, but if you want a deep bass then you should get one. The quality of the speakers without the amp is still incredible.
Do they sound better in the back or front?
This is a personal preference, although most audio enthusiasts install it in the front. Mainly because there are more options for installation.
Is the Crossover adjustable?
You can only adjust the tweeters -3, 0. +3 dB. If you want to adjust anything on the woofers, then you need another crossover or there is another option of having crossovers built into the amp.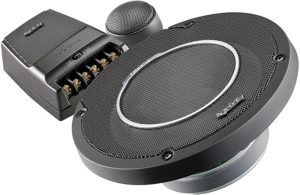 Pros
Adapter Rings Included for 6.5 Inch Fittings
Easy Tweeter Installation
2 Way Crossover System
Compatible With Most Factory Stereos
Cons
Under Par Bass Response
Difficult Crossover Installation
Covers On Crossovers Difficult to Remove
Description
This system comes with low-impedance 6.75" woofers that are compatible with most factory stereos. Although they are 6.75 inches they are compatible with 6.5-inch depressions. They're made with more rubber than you'd see compared to other woofers on the market which helps to provide a deep bass and long cone life.
The tweeters are very easy to install since they come with Starfish mounting brackets. You'll probably want to buy subwoofers if you want more bass in your listening experience. What they lack in bass they make up for with the high frequencies in the tweeters. The high notes aren't loud but crisp and clear. They won't overpower the bass either.
Common Questions
Will I need an amp?
You will want to buy an amp for this product. Yes, the system is still fantastic without it, but the extra power provided by it will create a much better bass that will vibrate your vehicle.
How many ohms should I look for when buying an amp?
These speakers run on a 2-ohm system so you would need a 2-ohm amp. It's important to match your ohms otherwise sound quality might be affected.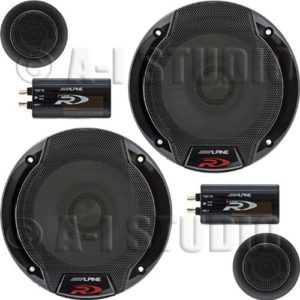 Pros
Performs Well For High Volumes
Works Well With Factory Stereo
Strong Bass Response
Easy Power Handling
Cons
More Expensive Than Most Component Systems
Description
Neodymium magnets are used for these speakers, so you can install these speaker frames in smaller places. There is a 2-way crossover system which allows frequencies to travel individually to the woofers and speakers clearly. If you want to blast your music choice then these are the speakers to buy. Quite often you lose sound quality as you turn up the volume, but the Alpines do very well maintaining quality sound when you feel like cranking your favorite song. The tweeters are made with silk and the woofers with hybrid fibers.
Common Questions
Should I get the SPR-60C or SPR-60?
The 60c is the more advanced version of the two. The 60 alone is a coaxial set of speakers that do not supply the benefits of the 60c.
How is the midbass response?
Mid bass is clear at all volume levels. The speakers are well balanced but it would help if your vehicle has sound deadening and proofing.
Pros
Tweeters Are Clear and Bright/Easy To Install
Compatible With Factory Stereos
2-Ohm Impedance
Cons
Not the Best Bass
Stiff Woofers
Needs an Adapter if You Have a Toyota
Expensive
Description
Each woofer is supported by a heavy-duty rubber surround. The tweeters are known for being extra bright and noticeable. They're blended with titanium and come with the I-Mount system which allows you to custom fit your tweeters into factory locations. Some people like the tweeters to be a slightly more dominate and some don't. It all depends on what your preferences are. The woofers are known to be weak. If you want a heavy bass you'll have to look elsewhere. This system is simple, durable, and will most likely last you for a long time. Installation is straight forward and is especially easy with the tweeters.
Common Questions
Can I connect my factory crossover to the speaker?
Yes, you can. Unfortunately, you would have to buy your wires elsewhere to connect it to the speakers.
What's so great about this I-Mount system?
This system lets you customize the tweeters in almost any location. They will most likely be able to fit into your factory made holes but with the I-Mount system, you can decide where to put the tweeters yourself.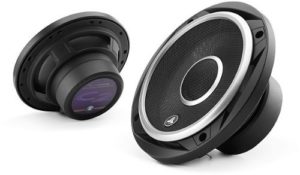 Pros
Excellent Vocal Pick-up
Easy Installation
Picks Up Subtleties Very Well
Cons
Large Crossovers
High-End Budget
Does Not Perform Well Loud
Description
These 6.5 speakers will create noticeably clean and natural sounds when compared to those previously mentioned. Silk dome tweeters and unique woofer designs give detail to high and mid range frequencies. The woofer's cones are mineral-filled poly cones and have long excursion steel frames.
Different mounting patterns come with both the woofers and tweeters so installation runs smoothly. Nobody likes unexpected complications. You can adjust the tweeters with the compact crossovers that can conveniently be installed discreetly and the tweeters also come with protectors.
Common Questions
Do surface mounting cups come with the product?
Yes, but only for the tweeters. That doesn't mean that the woofers would be a problem though because they come with their own fitting patterns. The fitting patterns will help you avoid any complications you might encounter regarding fitting.
How's the bass/Do I need a sub-woofer?
The bass is good, but not great. Like the previous products mentioned, a sub-woofer would enhance the bass experience. It depends on what you want out of your system/what you're willing to spend.
How to Choose the Best 6.5 Car Speakers
You'll need to know a few things before deciding on what you want to buy. Below are the essentials you should know about when viewing the different speakers you look at. Let's dive in.
Basics
A component system is made up of woofers, tweeters, and crossover systems.
Woofers are responsible for the mid-range frequencies. They're usually mounted on the side of the car door.
The tweeters handle the high frequencies and might need to be custom fit if there is no factory location inside the vehicle.
Mid-range speakers can also be bought with a system, but it all depends on your budget.
The crossover systems make sure the right frequencies are sent to both the woofers and the tweeters, so each speaker is contributing to the sound quality and not disrupting each other's output
Features You Should Know
Make sure to look at what the woofers are made from. Lightweight materials and stiffness are two important characteristics you need to pay attention to. Polypropylene and metal coated synthetics enhance sound quality and are important if you really want a powerful bass. Tweeters should be made up of softer materials like silk or fabric.
How Serious of a Buyer Are You?
Obviously, the more you pay, the better the sound quality is. You can buy pivoting tweeters to direct the sound toward you to provide better imaging. You can buy a complex crossover systems that have different channels of amplification and send cleaner frequencies to the woofers and tweeters individually. Later in this article, you'll find 5 different reviews on the car audio speakers you might be interested in based on your budget and how serious you are about your purchase.
Something You Should Know About Crossover Systems
There are two types of crossovers. The first is called a "passive" crossover, and the second is called an "active" crossover. A passive crossover does not need the power to control the frequencies and an active crossover does need power. Below, you'll find the pros and cons of both.
Passive Crossovers: Pros and Cons:
Pros
Inexpensive
Easy Installation
Adjustable settings
Cons
Wastes energy
Inconsistent sound definition
Lower quality vocals when compared to Active crossover
Active Crossovers: Pros and Cons
Pros
More power for each individual speaker
Better control of tonal response
Enhanced dynamic range
Cuts out unwanted frequencies
Cons
Complicated installation/set up
Needs 12V
Needs turn on connections
More expensive than passive crossovers
Final Thoughts
Keep in mind, anything you buy from the above products will sound much better with amps and subwoofers. Based on the choices above, the best out of the 5 would have to be Alpine SPR-60C. They perform excellently on high volume and have an easy installation. Among the 5, they are the top 6.5 speakers for bass. This system combined with an amp and subwoofers would knock any audio lover's socks off. The Alpines are the best 6.5 component speakers for the money and will satisfy your listening needs.