(Last Updated On: January 23, 2018)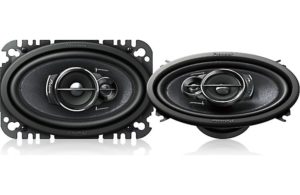 Whether you have a brand new vehicle or a classic car, chances are you've thought about what your favorite music would sound like if you upgraded to newer, better speakers.
Every car model is different, and true audiophiles can't help but notice the decrease in quality between listening to songs on a good pair of headphones versus listening to them on sub-par stock car speakers.
Choosing the best 4×6 speakers can seem daunting, but after a careful review of some of the top 4×6 speakers, we've narrowed it down to three in the review below, including general features to look for, pros and cons of each product, as well as which one we feel is the true winner.
Now that some general features have been discussed, let's dig deeper into the three best 4×6 speakers we found on the market.

Best 4×6 Speakers – Comparison Chart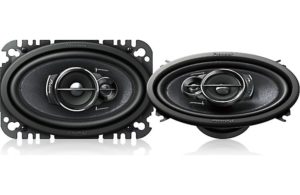 If you're looking to upgrade your stock car speakers without breaking the bank, these Pioneer speakers are a great choice since they are currently listed at under $50.
These speakers have a sleek, clean design. Although they are oval in shape, they do come with square plates to ensure an optimal fit.
One of the best things we liked about these speakers was the improvements that have been made to this "next gen" series: they look nicer, offer a more dynamic range, and they still don't have an overwhelming price tag.
In addition, the cone structure has been re-designed with a really nice Multilayer Mica Matrix that allows for the best sound reproduction.
When we went to install these into our car, we were shocked at just how lightweight these speakers are – the elastic polymer used to surround them was lightweight but protective against the elements.
These speakers are pretty small, so no modifications were needed to get them to fit. The installation itself was pretty quick – it took us all of fifteen minutes to install and get the music going.
As far as the actual sound, these speakers were superb – music had clean highs, clear mids, and the bass was surprisingly punchy.
We tried out a few different genres of music with these speakers, including spoken word, rock and even some hip-hop. The bass improvement was noticeable even without adding an amp and woofer in!
Overall, we were more than impressed with these speakers and happy to see that Pioneer had used the same "spider design", which uses the same material that's found in their high-end PRS series.
What is so cool about it? It helps provide speakers that have stiff suspension, accurate response, clear mids and highs, and a bass improvement that can only get better with an amp and woofer.
With a sensitivity of 88 dB and a maximum output of 200 W, these are powerful speakers made to provide a great listening experience. The design is sleek and easy to fit into a car, and the price is perfect for first-time upgraders.
Pros
Easy to install
Multilayer Matrix Cone Design gives powerful and clear sound
Great price for a pair
Super lightweight
Fits many cars perfectly without modification
Cons
If you're looking for a super thumping-loud bass, these speakers alone won't do it. You'll need to supplement with a good subwoofer
These speakers are not marine certified, so they can't be used in boats
Several online reviewers mentioned having to "break in" these speakers before they sounded good. While we didn't experience that, it's still good to note
Do not come with grills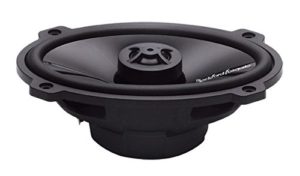 If you are attempting to replace stock speakers in a car that has tricky speaker locations, these 4×6 speakers from Rockford may be your best bet!
In addition to a simple and sleek design, they feature a special Flex Fit frame that allows for a slight adjustment of the speaker when mounted.
Additionally, a multi-OEM adaptor place allows for even more options for having the perfect fit.
When testing these speakers out, the first thing we noticed were the consistently clear highs, great mids, and powerful lows even when we tested out the same song on a disc and as an MP3 – there didn't seem to be any distortion on the disc, especially.
These speakers come with plenty of design features that are doing the behind-the-scenes work on the great listening experience, including a driver magnet coated in rubber to further eliminate any unwanted vibrations or distortions.
With a sensitivity of 90 dB and a frequency range of 90 – 22,000 Hz, these speakers provide crisp, clear sound where you can hear the ring of every cymbal clash and enjoy some nice, punchy bass.
As mentioned above, these speakers were designed to install easily in even the most troublesome spots. They came with more in the box than our two other competitors did, including grills, mounting hardware, adapter plates and a user's manual.
Rockford definitely went the extra mile to ensure consumers would not have any trouble installing their speakers!
Lastly, we need to take a second to highlight a really cool feature: the Vertical Attach Surround Technique, which increases the effectiveness of the radiating cone area up to 25%. This gave great, punchy bass and a superb mid-range that we wouldn't have even dreamed of existing with stock speakers!
Pros
Plenty of fitting/adjustment options
Easy to install
High-quality design with some nice features
Came with grills
Clear highs, great mids, and a nice, punchy bass for under $50 a pair
Cons
The low end of the frequency range is a bit weak compared to other speakers (90 Hz)
Not marine certified
An amp and subwoofer are needed to fully enjoy anything with a lot of bass, especially under 65 Hz.
Grills aren't the flashiest compared to other models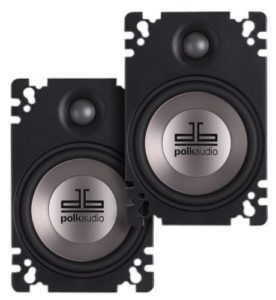 If you want to ease into upgrading your system, or if you're looking for great speakers for your golf cart or boat, the Polk Audio DB461P's are amazing for around $50 a pair, especially since they are marine certified.
Out of the three products we reviewed, these speakers had the highest sensitivity (91 dB) and had a great frequency range of 71 -22,000 Hz. Combined with a larger magnet than most, what you end up getting is a really solid sound experience.
Highs are nice and crisp and can go surprisingly high without hearing any distortion, even when playing heavy metal at max volume! The mids sounded great as well.
The bass on these speakers are decent, but they would certainly be improved with some dampener foam as well as an amp and subwoofer. For such a small speaker, however, we found the bass to be fitting given the size. Audiophiles, or lovers of hip-hop, may not be as impressed.
What sets apart these speakers from the rest is truly the all-weather materials used. These are perfect for boats, Jeeps or golf carts.
Durable butyl rubber surrounds the speakers, which allow them to stand the stress of high temperatures, water and a lot of sunlight. We love that we can never worry about them getting easily ruined!
The cone in these speakers is also really nice – it's made with a dynamic balance polymer/mica composite that is mineral-filled, and it provides a great sound with a lot of stability to reduce unwanted vibrations.
Installing these speakers wasn't bad, but we did notice that the sheet metal screws were a bit hard to screw in, and wires, grills and mounting brackets weren't provided. Be prepared and have those things ready prior to installation if you'll be needing them.
Pros
Great for harsh environments, marine certified
Good sensitivity and frequency range
Unbeatable price
Nice mids and highs
Cons
Lacking in installation equipment
Bass could use some improvement
Not the flashiest of speakers out there
How to Choose the Best 4×6 Speakers for Your Car
When it comes to determining the best 4×6 speakers out there, here are some features to keep in mind.
Know What You're Trying to Achieve
Car speakers are small, especially 4×6 ones. Before you begin your search for new car speakers, it may be worth asking yourself if you are approaching it with the right intentions – namely, to not drastically improve your bass.
It's important to note that new car speakers alone will typically not be capable of producing very strong, punchy bass unless you also pair them with a good amp and subwoofer.
It is common for first-time buyers to not realize this, and they often are left disappointed.
Audiophiles will find the most enjoyment out of the superb mids and highs that a nice pair of car speakers can provide for a wide spectrum of genres, including classical, rock, jazz, and even a spoken word.
For hip-hop lovers, however, plan ahead of time to have a good subwoofer and amp ready to install along with your new 4×6 speakers for the best results.
Pay Attention to Frequency
Having a good frequency range for your speakers is important if you want to properly hear bass (low frequencies) all the way up to highs (higher frequencies).
Subwoofers and amps help to broaden these ranges and allow you to hear music with super low and high pitches better, but there are some general guidelines as to what range you should be looking for when purchasing car speakers.
If you are searching for speakers that have a dynamic, good range, those that start between 50-100 Hz are best.
Another number you should pay attention to when researching car speakers it the peak power rating or if provided by the manufacturer, the RMS rating.
This becomes especially important for pairing with amplifiers – you would want to choose a speaker that is rated the same amount of RMS or higher.
For example, if you had an amp that had an RMS of 50 Watts, you would want to look for a speaker that has an RMS of 50 Watts or higher. A lower power rating than the amplifier may lead to breaking your speakers.
Most modern speakers should range between 50 – 200 Watts of maximum power to not only provide the best listening experience but also to properly pair with your amps and subwoofers.
Shape and Material
Prior to purchasing new car speakers, it's important to take into account two things: the shape of the stock speakers, and the location.
While many oval-shaped car speakers come with square plates, not all come with options that help you fit the speakers to your particular vehicle. Speakers that come with plates and numerous drilling holes are more likely to fit into your car better.
The material also definitely comes into play – the lighter the materials, the less likely you will experience unwanted vibrations and distortions.
Speakers that are made of lightweight polymer material or rubber will give you better sound and last longer because they won't rust.
Plastic frames are also a lot easier to modify if you don't get the perfect fit in your car the first time around. If you are questioning whether certain speakers can fit the make and model of your car, Amazon's "Your Garage" feature allows you to look it up on the spot!
Final Thoughts
In our hunt to find the best 4×6 speakers, we learned quite a few things when testing out these three products: design, ease of installation, price, and clarity are extremely important.
With that in mind, we believe the Pioneer TS-A4676R speakers are the true winners: they won't break the bank, they delivered the best bass, were easy to install, and they were truly made with some great features for the cone as well as stiffer suspension than most.
What's more, they even had a better aesthetic appeal than the other two! We realize that isn't the most important part of a speaker going inside your car, but it does go the extra mile in feeling like you are getting a high-end product.
If you're looking for an upgrade to your stock speakers and want to really make the most of your next commute or pleasure ride, go out and grab a pair of these speakers – you won't be disappointed.