(Last Updated On: January 24, 2018)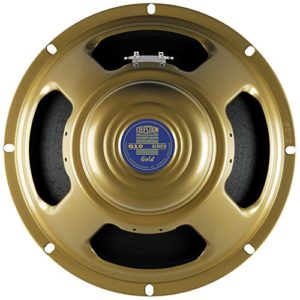 Most people, even experienced guitar players, believe that the speaker you use will make a huge impact on the quality of the tone of your instrument.
Stock speakers are generally not the best suited to providing the crisp, clean, and rich sound many guitar players are looking for, yet speakers are not generally the first thing people look at when trying to improve the sound quality of their guitar.
Top 3 Best 10-Inch Guitar Speakers: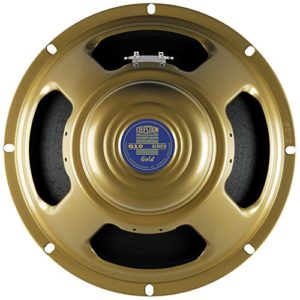 Celestion is a well-known and highly trusted maker of guitar speakers. They utilize both modern and vintage stylings, offering a variety of different tonal qualities and power options to provide the perfect speaker for people who play a wide range of different types of music.
The G10 Gold Guitar Speaker is an excellent value. The speakers are 8 or 15 ohms, depending on the model that you choose, giving you a good amount of power and a crisp, clean sound.
Many people love that these speakers do not have a break-in period that other speakers have. They provide high-quality sound from the first use. This is a vintage style speaker that works great with vintage guitars or for that classic rock sound.
The biggest complaint about this speaker is that it doesn't have the power or volume capabilities to be suitable for larger venues. If you push this speaker, you will get pretty bad distortion.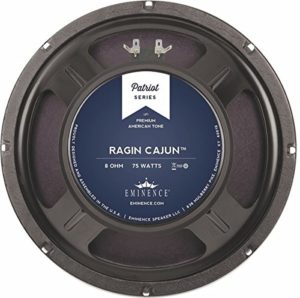 Eminence is a trusted and well-known maker of guitar speakers across a wide range of styles. From vintage to modern speakers, Eminence offers classic vintage options and powerful speakers that are suitable for screaming guitars, played loud, at a large venue.
The Patriot Ragin Cajun 10″ speaker is an affordable and quality speaker. This is a pretty powerful speaker that boasts 8 ohms at 75 watts of power.
This speaker is excellent for crisp, clean, and clear sound. It can be run very loudly without distortion or reductions in sound quality. Eminence is so confident in the quality of their speakers that all of them come with a seven-year warranty.
The biggest complaint associated with this speaker is that it needs a break-in period before the true sound quality can really be appreciated. That means that the speaker will need to be used a few times before you can really judge the quality of the sound. For an affordable speaker, it is a very quality choice.
Jensen is a time honored, high end, and reputable maker of audio equipment for a wide range of uses. They make vintage items like turntables and boom boxes, as well as high end stereo systems. Additionally, they produce car audio and video equipment, as well as speakers for instruments like guitars.
The Vintage C10R 10-inch Ceramic Speaker is, obviously, a speaker that is designed in the vintage style and boasts 8 ohms of power capacity. This is an excellent value for that classic sound.
It is rated for 25 watts of power, giving you a classic, clean sound that is perfect for smaller venues. It is a great speaker for classic or vintage guitars.
The biggest complaint is that you can only push this speaker so far before the sound quality really begins to degrade. At higher volumes, the speakers start to crackle and distortion becomes an issue.
Things to Consider When Choosing Guitar Speakers
Many might think that the simple fix for this is to buy a top of the line speaker and be done with it. But, of course, nothing is that simple. It helps to have a basic understanding of speakers and the types available. Why? It will help you make the best decision for your needs.
Speakers come in a huge range of sizes and power handling abilities. They also contain different types of cone construction, magnets and so on. This means that certain brands, models, and even years of manufacture can make a huge difference in the resulting sound quality.
First and foremost, you will want to figure out what your budget is. Speakers not only range widely in power abilities, construction methods, sizes and so on, but also in prices. Determining your budget will make it easier to begin to narrow down your potential options.
One of the most important things you will want to consider is whether you want vintage or modern speakers. There are advantages and disadvantages to each.
Vintage guitar speakers are those that are from the 1940s, 1950s, and 1960s. These are low wattage systems that provide a distinct sound quality, particularly when used in small venues or a recording studio. These cannot be pushed very hard, however, or you will begin to notice distortion.
As people began to desire more power and the ability to play at higher volumes, vintage speakers lost their functionality. Modern speakers are more technologically advanced, allowing them to push clear and crisp sounds, even at higher volumes. They are more robust and versatile.
Modern speakers can be very high wattage, making them suitable for stadium-sized venues and screaming guitar sounds.
Vintage and modern speakers offer different abilities, and also tonal qualities. So you ultimately have to decide which "sound" is the one that best suits your style and needs.
Have musical heroes? Check out what kind of speakers and amps they used and you'll be better equipped to reproducing that sound.
Conclusion
Stock guitar speakers are generally just not good enough to provide the sound quality we want and expect. Depending on the type of music we play and the amount of power we want from a speaker, a vintage or modern speaker may be the best option.
Vintage speakers have a unique sound and are well suited for smaller venues. Modern speakers boast a lot more power and the ability to play at very high volumes without feedback or distortion, making this a great type of speaker for rockers, guitar-driven tunes, or those who are playing at really large venues.