(Last Updated On: December 21, 2017)
Alesis, who have seamlessly made the transition between producing audio kit like interfaces to instruments like e-kits have certainly made waves in the electronic drum kit industry.
Their kits have always been extremely well priced, gone are the days when an electronic drum kit was always a very expensive piece of equipment likely to set you back $1000!

Better technology, better feel, better groove, better beats! It's a great time to live in for drummers and especially for those who love electronic kits and their fantastic ability to help you practice, record and most importantly, have more fun playing drums.
Alesis have gone through the gears lately, there was the DM6 5 years ago, then the DM6-Nitro and now they've cut that to just Nitro. Minimally named but not minimally feature packed at all, it exceeds its predecessors in every way.
The Nitro is a captivating bit of kit, it looks great, strong and sturdy and has a powerful module. To top it all of, the Nitro has a price tag which won't burn a big hole in your pocket, weighing in at a remarkable $299…!
What's in the Box?
Here's what you get for that price:
The drum module
Five 8" drum pads that consist of 3 single zone toms, a dual zone snare on a stand and a kick pad big enough for a double-bass pedal.
Three single zone 10″ round cymbal pads, the hi-hat, crash and ride. They all have a choke feature.
1 Hi-Hat Controller
1 bass drum pedal.
Aluminum 4 post rack mounting system
Sticks
That's a lot of kit for about $300. A drum rack like that can set you back $100 alone! It's more than enough to get any drummer started and you'll be playing your beats in no time as the kit is easy to set up and the instruction manual is excellent.
It's difficult to really perceive how you get so much for your money with the Nitro. It's had many people asking, really, what is the catch?! Here's a review to convince you that the simple answer is no, there isn't, the Nitro remains one of the world's best selling kits today and it's no fluke.
Setup and Build Quality
The first thing you'll find is that this doesn't really feel like a cheap kit when you're building it. The rack, in particular, is very sturdy compared to other electronic drum kits and caters for a wide range of set ups, including left-handed ones.
The kick pad is sturdy also and the pedal isn't bad at all, forget those CB drums pedals that we've all seen on beginners kits! It takes up a space of 5′ x 3′ or 6′ x 4′ depending on how well spaced you like it. It's a bit bigger of a footprint than some e-kits but it feels more authentic than having a cramped, compact kit, provided you have space for it.
Module
The module is actually a DM7x module in disguise, it's actually just a slight rebrand, containing 385 drum, cymbal and percussion sounds onboard. Alesis have provided 40 preset builds from that selection. Overall it contains easily more sounds than any other lower priced kit and more than many expensive ones.
You can modify them, too. The module is good and feels great to use, with its little kit shaped button interface. It has two slots on the back for expansion with 2 more pads, too, which is a one-up on all budget e-kits. It's more than you expect to get and editing the kits and presets is easily done through the graphical display.
It has a metronome and 60 on board songs for jamming purposes. It doesn't skimp out on the features and overall the module is compact but intuitive and easy to use. The module has an impressive output gain too so you can hear everything in your headphones loud and clear.
It tops it off with an audio through feature which allows you play music from your phone, laptop or other devices with a standard mini jack to quarter inch jack adapter. You'll hear your drumming and the music in your headphones.
Sample Quality
We've reached a stage where samples in drum modules are all pretty standardized in their quality. You get a large selection of sounds and some are better than others but they're all editable in pitch.
You can crank down your floor tom, if you wanted, for example. That's really cool and just adds another dimension which keeps the kit interesting. There's plenty of pleasing kits and many experimental ones to sample.
Learning Feature
So far only expensive sets like the Yamaha DTX450K and the Roland TD-11K have built-in learning functions that help you train your drumming abilities. It's an extremely cool addition to this cheap kit, really giving it some long-term usefulness for drummers of all levels.
You either have to play along to a rhythm or pattern after a count-in or play a drum part to a rhythm supplied by the module. It scores you objectively and talks to you about your score. There's essentially a drum robot teacher bundled into this $299 bit of kit. It's reportedly great for teachers out there who find that it really motivates students.
Recording
Many people buy an e-kit for easy recording. You can hook it up to a PC or record internally and quickly record performances with no need for a large kit with microphones, interfaces and expensive software programs. The Nitro provides 3 ways to record.
– Internally. This allows you to record with or without music internally in the module so you can listen back to your performance.
– Through its audio-out. This is a basic output that allows you to run a mini-jack cable from the module to a device like a laptop or a phone, running a basic recording program, like Audacity. You can get a quick, stereo copy of your playing with this method.
– Using MIDI out. With full MIDI capability, the Nitro can be connected to a PC running software like Garageband, Ableton, Logic or Pro Tools. You can trigger sounds in the software, from a plugin like SuperiorDrummer. It takes some more setting up but it essentially allows you to create editable, high-quality tracks from your drumming.
Pad Quality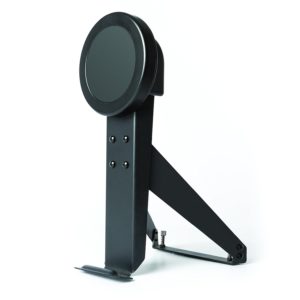 The pads do feel good, nice and responsive with a crisp rebound that doesn't feel too plastic and fake. The kick is especially impressive, mirroring a real bass drum nicely. The bounce quality doesn't hinder a performance at all, which is reassuring as poor pads really can ruin an otherwise decent kit. After all, if you can't play it like a drum kit then what's the point? The Alesis doesn't fall into this category at all and the pads are pleasant to use.
The pads are rubber, not mesh, so they aren't completely silent. It's like hitting a stick onto paper at the most, though, and shouldn't penetrate walls or be audible to others in apartment blocks.
The dynamics provided by some kits are favorable to some drummers than an acoustic kit. Particularly for processed genres of music, they suit styles well, with a quick, logical rebound that is easy to get used to. You can play fast around the kit pretty easily if you're able to on a real kit.
Alesis Nitro vs Alesis Nitro DM6 | Roland TD1K | Yamaha DTX400K
The Nitro is relatively new and usurps the DM6-Nitro and the DM6. It's Alesis' newer offering and it stands to reason that it is better, as they have 5 years more manufacturing experience behind them. You might still find people on forums putting forward cases for the DM6. However, the truth is, everything is better manufacturing quality and Alesis has confirmed it to be the case.
Here's the comparison:
The Nitro kit has 385 sounds and 40 preset kits on board whilst the DM6 has 108 sounds and 15 slots for presets.
The Nitro kit has "learning mode" while the DM6 doesn't have built-in learning functionality.
The Alesis Nitro can be expanded (+1 tom and +1 cymbal) by simply plugging new pads straight into the module. The DM6 doesn't have these additional ports.
The Roland TD-1K has been about for a while, testament to Roland's legendary brand status and great build quality, but an objective comparison does show that Roland lags behind the Nitro and when you factor in that it costs $200 more, it's difficult to make a case for.
The Roland has a single zone 7″ snare pad compared the Nitro's two zone and a kick pedal which is beater-less, making it far less authentic and only features 15 kits with far fewer sounds than the Alesis. It does, however, have superior cymbal pads but the difference is ultimately slight.
Some Roland users will say the pads are superior and maybe to some they are but generally, the Nitro's pads shouldn't pose a problem to any drummer.
E-kit leader Yamaha's entry kit does also leave you asking questions when compared to the Nitro. A single zone 10″ snare pad accompanies single zone 7.5″ tom pads and like the Roland, there's no real pedal and pad for the kick, just a lonely pedal. No chokes for the cymbals, either, but at least the Yamaha at least has 170 sounds packed in.
Conclusion
Still, though, it doesn't really compete and it's no fluke that the Nitro has been praised worldwide, hailed as one of the best value kits on the market to date. It's easy to see why it's held in such high regard as a cheap kit with awesome build quality and functionality.
The large volume of sounds combines with a powerful editing feature for flexibility. The rack is strong and stable for long-term use and travel. The pads respond well to touch and the extra features include a handy training program.
Ticking all of these boxes for about $300 is a real feat from Alesis; the Nitro will have a place in the e-kit hall of fame for a long time.